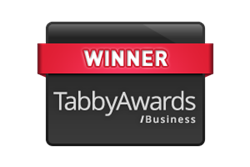 Wilmington, Delaware (PRWEB) November 19, 2013
ClickMeeting, the leading videoconferencing SaaS provider, has won a Tabby Award in the Communications category. The Tabby Award honors innovations in tablet apps developed for business and enterprises.
"Over the past few years, ClickMeeting has introduced a steady stream of new features and improvements," said ClickMeeting Founder and CEO Simon Grabowski. "Our user community has received them with great enthusiasm, and now it's gratifying to receive recognition from a distinguished panel of worldwide business leaders. We thank the Tabby Awards judging panel for recognizing our achievements."
ClickMeeting was chosen from among contestants from Australia, Canada, Germany, India, Ireland, Israel, Japan, Poland, Switzerland, Turkey, the United Kingdom, and the United States.
Recent Innovations and Enhancements
Mobile apps have been an important component of the ClickMeeting strategy ever since tablets made mobile computing a reality. Apps for Apple, Android and Blackberry enable users and attendees to perform most functions of the desktop version from a tablet. Other innovations include:

Social invitations and meeting login for Twitter, Facebook and LinkedIn via ClickMeeting API integrations.
Up to 3 reminders prompting registrants to attend on time, including optional reminders attendees can customize.
Facebook app allowing online meetings inside Facebook, with timeline promotion capabilities and FB invites.
Adoption of the ClearSound engine to purify audio quality and filter ambient noise.
Cloud technology for a smoother user-experience and desktop sharing without delays and jerky update speed.
Microsoft Outlook plug-in to facilitate scheduling, invitations and ad hoc meetings inside Outlook.
Spanish, German and Czech languages available in user panel; Chinese, Portuguese and Czech in meeting rooms.
Follow link to company website for: ClickMeeting 30-Day Free Trial, No Credit Card Required. ClickMeeting apps are available free of charge in the App Store, Google Play, and Blackberry App World.
About the Tabby Awards
The Tabby Awards is the only competition dedicated to honoring the best in business and enterprise tablet apps. A judging panel of 24 mobile developers and professionals reviewed apps from hundreds of diverse businesses. The panel was chaired by Milind Gadekar, Co-Founder and CEO of CloudOn — a chart-topping app that won a Tabby Award last year.
The Tabby Awards announced the winners in New York City at the TabletBiz Conference & Expo, a leading worldwide conference focused on tablets, apps and mobile productivity.
About ClickMeeting
ClickMeeting is videoconferencing system that enables small businesses and organizations to enjoy the benefits of producing online meetings and webinars at a fraction of the cost of other platforms. True to its slogan — World Easiest Online Meetings — ClickMeeting's Web-based software requires no complex setup or configuration. Meeting organizers and presenters can be up-and-running in minutes; participants simply click a link inside an invitation to enter the meeting.