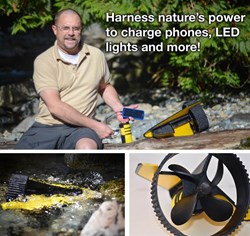 Water power is more intense, reliable and predictable for charging than solar power.
Seattle, Washington (PRWEB) November 19, 2013
The Hydrobee (TM) provides USB charging power day and night, rain or sun, anywhere water is flowing at walking speed or from a faucet with standard household water pressure. Made from simple components, it will cost half as much as solar panels with similar power output. It charges in 2 to 4 hours depending on water speed or pressure, and charges phones at their maximum charge speed. The Hydrobee is being developed with crowd-funding raised on Kickstarter.com.
Devices charged by USB power are now used for communication, lighting, navigation, education, and more. Tens of millions of people use their devices when they go "off grid" for fun or work, and after a few days they need to recharge their devices. More than 2 billion people do not have reliable electric power. Over 700 million of them have phones, and they spend more than $16 billion a year to buy charges from local vendors with car batteries. Solar power is too expensive and unreliable for most of these people. Now they can use the renewable hydropower energy around them in rivers and streams to get free charging power.
The founders of Hydrobee, Burt Hamner and Dane Roth, designed and built large hydrokinetic turbines in their previous company, Hydrovolts, Inc. "We realized that the new world of USB charging does not need lots of power, it needs tiny power delivered steadily in millions of places. Instead of extracting the most hydropower possible from a particular site, we can harvest the minimum power from the most sites for the most people." Hydrovolts was sold to investors earlier this year, and Hamner and Roth founded Hydrobee SPC to bring the new Hydrobee USB turbine to the market.
"Our eyes are on the prize of 100 million people who live near streams and rives and coastlines and need USB power," says Hamner. "But we are going to market with campers and hikers and 'preppers' in developed countries, so we can establish the product. Then we will partner with global development agencies to help people in developing countries get the Hydrobee so they can save money and time on charging."
Hydrobee launched November 18th, 2013 on Kickstarter, the crowd-funding site for projects and products. The team hopes to raise at least $48,000 to complete the engineering and testing of its turbine and bring it to market.
Company Information
Hydrobee SPC is a Social Purpose Corporation in Seattle, Washington developing new technologies for USB charging with nature's power. The company founders previously won awards for their hydropower inventions from the Cleantech Open, Imagine H2O, LAUNCH:Energy, and the Global Cleantech Cluster Association. Their new company Hydrobee SPC is based at the ImpactHub Seattle and is participating in the Fledge Accelerator for Conscious Companies. The company is an Autodesk Clean Tech Partner and is using the Autodesk Eco-Materials Advisor software to design the Hydrobee turbine for environmental sustainability.