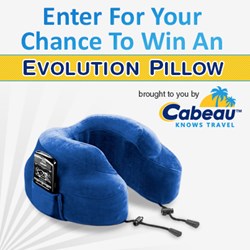 Los Angeles, CA (PRWEB) November 19, 2013
Cabeau, one of the fastest-growing travel goods companies, is launching today its "Free Pillow A Day Sweepstakes,"just in time for the holidays. Each day, from November 18 through December 20, 2013, Cabeau will give away a free Evolution Travel Pillow™ to one lucky winner, chosen at random from entries received. To enter, people simply need to "like" Cabeau on Facebook. With multiple chances to win, they can "like" and enter the "Free Pillow A Day Sweepstakes" daily until midnight, December 20.
Cabeau is dedicated to comfortable travel and has invented numerous innovative products that offer affordable comfort for all. Their memory foam Evolution Pillow is touted as "the travel pillow that actually works" and has eight new features, including: raised sides for 360° head and chin support, a machine-washable velour cover, and a travel bag that compacts the pillow down to 1/4 its size. Constantly changing and improving, Cabeau released its new design of the neck pillow earlier this year, making it even more convenient and comfortable.
"The Evolution Pillow™ was invented to simply work. Our company is constantly striving to help travelers feel like they're flying First-Class despite the many comfort challenges associated with travel today," said David Sternlight, Cabeau's Founder and CEO. "Now more than ever, during the busy holiday season, we'd like to offer travelers some much-needed rest and comfort."
Putting an end to stiff necks, bobbing heads, and cramped, uncomfortable sleeping positions, the Evolution Pillow™ also makes a terrific holiday gift, enabling everyone on your list to reach their destination rested and refreshed.
To purchase the Evolution Pillow™ for just $34.99, please visit http://www.Cabeau.com, where you'll also find information about our entire line of comfort travel products.
About Cabeau
Cabeau knows how to make travel easy and offers affordable luxury to all. Whether it's our memory foam Evolution Travel Pillow™ or adjustable Midnight Magic™ Sleep Mask, we offer the most innovative travel pillows, comfort products, accessories, and on-the-go gear. Cabeau's goal is to provide intelligent comfort to commuters and jet setters alike, transforming coach-class woes into a First-Class experience. Once you feel the difference, we hope all of your adventures will be in Cabeau comfort. Visit http://www.cabeau.com.