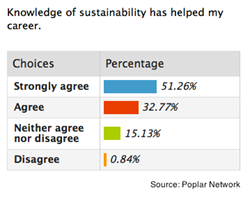 84% of respondents reported that sustainability has been helpful to their career.
Ridgefield, CT (PRWEB) November 20, 2013
A survey of professionals in a range of industries was recently conducted in order to gauge the effectiveness of green credentials, such as LEED, NAHB, BPI, CEM and others, as well as to gain insight into whether knowledge of sustainability had been helpful to professionals in their careers.
The survey was distributed to thousands of members of Poplar Network, an online network that connects green building professionals with industry-leading education and training. The survey received over one hundred responses from professionals working in, or with, the architecture, engineering and construction industries. Individuals reported working for government organizations, universities and a diverse range of companies including Staples, DAR Group and Alcoa.
Responses were received from professionals in a range of careers including administrative assistants, analysts, architects, brokers, business development managers and directors, commercial realtors, consultants, designers, engineers, electricians, energy auditors, estimators, facilities managers, insulation installers, lecturers, marketing managers, project managers, sales representatives and technical directors.
Of the respondents, sixty seven percent (67%) indicated that they were employed, twenty one percent (21%) described themselves as "self-employed" and twelve percent (12%) reported being either not currently employed or full time students. While a range of green credentials were reported, including NAHB Certified Green Professional, EcoBroker, RESNET, CEM, BPI Building Analyst, and MEP, the vast majority of respondents held LEED credentials. LEED Green Associate was the most frequently held credential, while LEED AP was the second most popular.
Of the respondents, fifty one percent (51%) strongly agreed and thirty three percent (33%) agreed with the statement "knowledge of sustainability has helped my career."
Professionals and businesses in the U.S. are increasingly likely to view green building as a business opportunity, as opposed to a niche market, and are more committed to such strategies as a source of efficiency, employee engagement and productivity and increased profit. Indeed, according to a 2013 World Green Building Trends SmartMarket Report by McGraw-Hill, U.S., 51% of responding firms projected that 60% of their work would be green by 2015, up significantly from 28% in 2013 and 13% in 2008.
About Poplar Network:
Poplar is an online network that connects green building professionals with industry-specific education and training. Individuals working at companies including Waste Management, Hewlett Packard and Wells Fargo trust Poplar for their professional education. Learn more at PoplarNetwork.com.