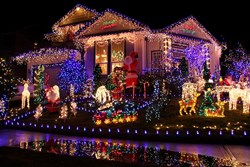 "Our hope is that all the lights and decorations will be a trigger for some of the best neighborhood parties and family memories in Southern California history," said Rick Brotherton, First Team Vice President, Marketing
Irvine, CA (PRWEB) November 20, 2013
With stores quickly hanging holiday decorations and Southern California radio adding Christmas songs to their playlists, the Extreme Holiday Makeover by First Team Real Estate is starting to pick up hundreds of contest entries.
"Everybody wants to get in on the fun this season," said Rick Brotherton, Vice President, Marketing for First Team. "As the chill hits the air, people are entering our contest to have 'the' house this holiday season."
The winning entry for the Extreme Holiday Makeover will receive $5,000 in professional holiday decorating along with clean up at the end of the holidays and a $500 voucher for power expenses. Runners up will receive American Express gift cards to help make their holiday season bright, although not as bright as $5,000 in lights!
"This holiday, the winning family will definitely have the brightest house on the block," explained Rick Brotherton. "Our hope is that all the lights and decorations will be a trigger for some of the best neighborhood parties and family memories in Southern California history!"
Designed to help Southern California home buyers and sellers celebrate one of the brightest years in local real estate in memory, the Makeover contest will cap one of the biggest years in First Team Real Estate's history.
"The Southern California real estate market has been up by double digits for over 20 months and in key markets like luxury homes above $1 million, our market share has been increasing by over 30% faster than our nearest competitor," said Chris Pollinger, Senior Vice President, Sales for First Team Real Estate. "These achievements are all a great reason to celebrate, and the Extreme Holiday Makeover is the perfect way to do it!"
For more information or to enter the Extreme Holiday Makeover contest, go to http://ow.ly/qVZb5.
ABOUT FIRST TEAM REAL ESTATE
Growing from a single office in Huntington Beach, CA in 1976, First Team Real Estate is now Southern California's largest and most trusted private real estate agency with offices across California. In 2011, 2012, and 2013 First Team was recognized as Best Real Estate Company by the annual Orange County Register survey of 100,000 Southern California households. We can be reached at (888) 236-1943.
ABOUT FIRSTTEAM.COM
Firstteam.com is the official website of First Team Real Estate, and is used daily by thousands of unique users who trust its property and market analysis data which is updated four times daily on average. According to independent rating organizations of Internet usage and reach, firstteam.com is the most used brokerage property web site serving Southern California. For more information go to http://ow.ly/lZH0G.