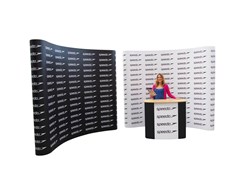 These wider pop up displays are ideal for rapid setup Press Conference Sets.
Poole, Dorset (PRWEB UK) 19 November 2013
"We've sold hundreds of budget pop up displays for use as press conference sets, and although the clients have always been very happy, one question always arises - can we make a wider display to better suit the typical press conference environment?" comments Design Consultant Emma Battman.
Emma continues: "If you think of bustle and activity of a busy press conference, it's very important that our clients branding, logo or message is in the photographers 'frame', no matter from where the photographer is shooting. The 'normal' width of a popup stand is either 3 or 4 quads which normally is fine, but for a busy, hectic conference may not be wide enough"
To address this problem the design team at Quadrant2Design have found a way of adapting the system to create slightly wider 5 quad wide displays. These wider displays are more impressive and provide a wider canvas for branding, ensuring that the clients logo is visible in the camera frame from even oblique angles.
Importantly, the new 5x3 system is as quick to setup as the standard 3x3 and 3x4 setups. "Speed of setup is very important to the press-conference user, so we're pleased the new wider setup is almost as quick to erect as the normal Kea pop up sizes," enthuses Emma.
To see a video presentation illustrating how to setup a Kea, see: setting up a Kea Pop Up Display System.