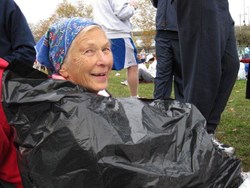 An annual Joy Johnson Spirit Award is an absolutely lovely idea.
New York, NY (PRWEB) November 20, 2013
NYC's Galloway Training Team announced that Joy Johnson, a long time Galloway NYC guest runner with a streak of finishing 25 consecutive NYC Marathons, passed away on November 4. Joy was 86 years old. She fell at mile 20 of the NYC Marathon and injured her head, but completed the marathon. As was her annual tradition, the next morning Joy appeared on the NBC Today show with her pal Al Roker before succumbing to severe internal bleeding. The running community has lost a true champion, and her loss will be felt by many. The Team wishes all of Joy's friends and family peace in this difficult time.
"I think creating the annual Joy Johnson Spirit Award is an absolutely lovely idea." states Joel Lowy, a Galloway Team Leader. "Even those who didn't know her well can still feel the sense of honor in what it means to receive an award recognizing the qualities that made her great."
"Joy Johnson felt everyone she met was her friend," stated her daughter Diana Boydston, who resides in California. "Remembering Joy this way for years to come is really special and Joy would have approved." declares Diana. "Joy shared love of running, love of family, and brought smiles, kisses and hugs wherever she went." "We loved that she was Auntie Joy and Grandma Joy to her family," states Joy's NY pacer Will Sanchez. Will chronicled Joy's 2008 Marathon first place finish in 'Running with Joy' in the "Chicken Soup for the Soul" series for Runners.
The Galloway NYC Training Program for over 16 years has created a welcoming and warm environment for runners of all ages, abilities and experience levels. Jeff Galloway is a former U.S. Olympic team member who has run over 130 marathons. Through his training program, he is coach to over 300,000 runners and walkers across the country. He is also the author of many running books, including the best-seller, "Galloway's Book on Running," and writes a monthly column in Runner's World magazine./
Visit Galloway Training Team on Facebook or their website.
More about Jeff Galloway on his website http://www.jeffgalloway.com.