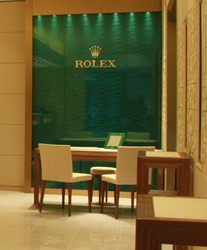 As I strive to present the very best shopping experience to my customers, I am honored to present this new space. We are grateful for our loyal clientele's continuing patronage. Our grand re-opening would not be complete without them. - Stan Razny, Owner
Chicago, IL (PRWEB) November 19, 2013
Razny Jewelers is proud to announce they have completed a major renovation of their Addison Flagship Location. The renovation includes a Rolex and Patek Philippe Salon as well as innovative new spaces devoted to Breitling, Marco Bicego and their newest collection of Swiss Timepieces, Tudor Watches. The store now stands at 12,000 square feet which allows Razny Jewelers to showcase more of their brilliant jewelry and timepieces.
Now that the remodeling and expansions is complete, they want to share the excitement with their loyal customers and friends. On November 21st they are throwing a Grand Re-Opening Party at their Addison location libations and hors d'oeuvres will be served from 6:00 until 9:00 pm.
Enter the Razny Raffle to win a $1,000 Shopping spree! Drawing will be at 8:00 pm and you must be present to win.
"As I strive to present the very best shopping experience to my customers, I am honored to present this new space. We are grateful for our loyal clientele's continuing friendship and patronage. Our grand re-opening would not be complete without them and we hope they can join us for this special occasion." - Stan Razny, Owner of Razny Jewelers.
Razny Jewelers hopes that you can join them in celebration of this exciting time. Please RSVP to Gina(at)Razny(dot)com or 630-261-0020.