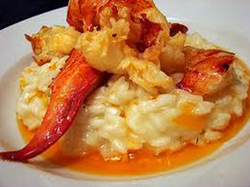 (PRWEB) November 18, 2013
GetMaineLobster.com continues its weekly holiday lobster recipe unveiling with its Holiday Lobster Risotto with Parmesan and Brown Butter. This elegant recipe is easy to prepare and will have dinner guests asking for seconds with its silky texture and hints of butter, brandy and sautéed onions combined with fresh Maine lobster meat.
Ingredients include two or three boiled Maine lobster tails that have been cut into bite-size pieces, four tablespoons of organic butter at room temperature, four-and-a-half cups of chicken stock, one cup of finely chopped sweet onion, one-and-a-half cups of Arborio rice, a half cup of brandy, three quarters of a cup of grated Parmesan cheese, one quarter of a cup of finely chopped chives, and kosher salt and pepper to taste.
To prepare the risotto, melt the butter over medium heat in a large saucepan. Allow the butter to foam and then turn brown before adding the chopped onion and sauté until translucent. Next, add the rice and stir until the butter coats it. Then, add the brandy and simmer until it is almost evaporated. Add one half of a cup of chicken stock and stir until it is almost completely absorbed. Continue to add stock slowly in half-cup increments, stirring constantly until the rice is cooked with a creamy texture.
Once the rice has been cooked, stir in the lobster tail meat and remove from heat. Finally, stir in the grated Parmesan as well as the remaining butter and half of the chives. Season with salt and pepper to taste and enjoy!
Browse Get Maine Lobster's wide range of seafood offerings, access other Maine lobster recipes or view current seafood specials for delivery by visiting GetMaineLobster.com or call (866) 562-4817. Stay updated and Like us on Facebook or follow us on Twitter.
About GetMaineLobster.com
GetMaineLobster.com, a division of Black Point Seafood and Black Point Gourmet, hand-selects the finest Maine lobster, seafood and beef products for convenient distribution throughout the United States. Their passion is to make fresh, quality seafood readily available to customers across the country, which is why they buy from only the most trusted, well-established suppliers to ensure that they receive the finest products available.
GetMaineLobster.com was selected out of the more than four million small American businesses served by Chase bank to represent its new Platinum Business Checking product for its 2013 national advertising campaign.