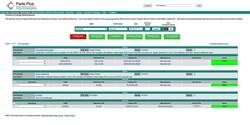 The new tool gives our customers the capability to manage their PCN and EOL resolutions in one easy to use utility which can be viewed and shared as required
Fort Walton Beach, Florida (PRWEB) November 20, 2013
Total Parts Plus (TPP) of Fort Walton Beach, Florida announces the release of a new Product Change Notification (PCN) Management Tool. The new tool allows customers to manage PCN's from release, to identification of impact on products, to PCN resolution. Customers can assign and share solutions with team members to prevent duplication of effort and eliminate multiple actions for a given PCN. According to Peter Robinson, VP of Sales for TPP, " The new tool gives our customers the capability to manage their PCN and EOL resolutions in one easy to use utility which can be viewed and shared as required."
Features include:

PCN Resolution Management System assignment
Automated and filtered PCN alerts
Management by Bill of Material, PCN type, or PCN effective date range
Search historical PCN archives
Download Excel-friendly reports
Component engineers, designers, and parts sourcing specialists can now proactively manage the health of their products and minimize the impact of PCNs and EOL notices. In addition to the Resolution Management functions, the Parts Plus tool contains an End of Life (EOL) analysis utility which allows users to better forecast component availability, limiting the negative impact to product lifecycle.
About TPP
TPP is an established provider of customizable web-based solutions for obsolescence management, RoHS and REACH compliance, and conflict minerals reporting. TPP currently provides data management services to hundreds of original equipment manufacturers including many of the technology industry's top communications and electronics companies. For more information about TPP's updated PCN tool or services, visit http://home.totalpartsplus.com or call 877-912-7278.