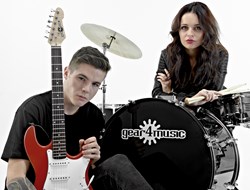 This is a big step forward in the evolution of our business.
York, North Yorkshire (PRWEB UK) 20 November 2013
Gear4music has launched a new-look website, exactly 10 years after its original Gear4music.com website was first launched.
All 19 of the company's European websites have been updated using 'responsive design' elements that automatically detect either mobile, tablet, laptop or desktop platforms, altering the layout to improve customer experience.
The new website comes at a time of rapid expansion for the company, having grown by 50% this year, and having just moved into new 135,000 square feet premises.
The site also hosts Gear4music's new short film, 'Your Music, Our Journey' produced by Digifish, a company run by Shed Seven member Paul Banks. A number of other Shed Seven band members and Gear4music staff also appear in the film.
Managing Director Andrew Wass commented, "This is a big step forward in the evolution of our business. We launched Gear4music.com exactly 10 years ago, and this is a great way to celebrate our birthday. I think the site is now much easier to use, and includes some great new search features to help customers find what they are looking for faster. I'm also really pleased with the short film we've made - it captures exactly what inspires us to keep improving and growing."
----ends----
For additional images and more information, please contact: jon(at)gear4music(dot)com
More information on the new website: http://www.gear4music.com/website
More information on 'Your Music, Our Journey': http://www.gear4music.com/our-journey
About Gear4music
Based in York, Gear4music.com was launched in 2003 by Red Submarine Limited, and is now one of the UK's leading online retailers of musical instruments and music equipment, with over 300,000 customers.
Gear4music produces a range of own-brand musical instruments and equipment including Acoustic Guitars, Electric Guitars, Drum Kits, Woodwind, Brass, String instruments, and also retails products from well-known brands including Fender, Gibson, Yamaha and Roland.
The company has over 100 staff, working from offices, a warehouse and a showroom in York. In March 2012 the company received a £3.4m investment from private equity firm Key Capital Partners, and is now one of the fastest growing companies in its sector.
In June 2012 Gear4music launched new websites in 18 additional countries:
Austria, Belgium, Czech Republic, Denmark, Finland, France, Germany, Ireland, Italy, Netherlands, Norway, Poland, Portugal, Slovenia, Slovakia, Sweden, Switzerland, Spain.