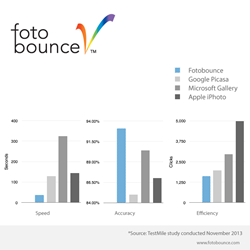 ...Fotobounce's advanced face recognition technology is the best in the world for tagging and organizing digital photos.
Burlington, Ontario, Canada (PRWEB) November 21, 2013
Independent testing confirms what users repeatedly report – that Fotobounce's advanced face recognition technology is the best in the world for tagging and organizing digital photos. Fotobounce outperforms Apple iPhoto™, Google Picasa™ and Microsoft Photo Gallery™.
Accuracy is only part of the story when it comes to applying face recognition technology to help consumers tag their photos. Another aspect that is just as important is the way the application handles and presents face recognition suggestions to users. "We have spent a long time developing the best technology solution for both accuracy and workflow. The resulting app is the best in the world for user efficiency!" states Ray Ganong, Co-CEO for Applied Recognition.
TestMile, an independent test company, tested all four products with a random selection of digital photos representing typical consumer smartphone and digital cameras. TestMile tested the user experience, tracking the number of mouse clicks, time and face detection and recognition results. Fotobounce won in all categories.
There are two types of tests typically performed to measure the effectiveness of face recognition technology. The traditional testing method is based on running different software algorithms against public photo libraries. These tests are conducted by government or academic institutions who are primarily concerned with finding "bad guys" in video and photos. For consumers the more appropriate method for testing user management of digital photos is to use a typical set of consumer photos, and to execute a test that mirrors the process they would go through to tag and index their photos. For this test Fotobounce employed the latter.
The full report further substantiates that Fotobounce is the more effective solution to tag and organize digital photos. See complete results of our test at this link: https://fotobounce.com/docs/TestMile_Report_Nov2013.pdf.
Even with this very favorable score relative to the major players in our space, Fotobounce continues to push forward. A cloud-based version is nearing release and enhancements to our core face recognition technology are ongoing, ensuring Fotobounce remains positioned as the leading consumer solution for photo tagging, organization and sharing.
###
About Fotobounce
Fotobounce is based on patent-pending technology enabling the effective management of digital photography. Developed by Applied Recognition, Inc. and released in 2009, Fotobounce provides efficient and reliable photo organization and enables secure, private sharing of photos. Applied Recognition pushes basic science out of the lab and into exciting consumer software applications. For more information and to download or upgrade Fotobounce visit http://www.fotobounce.com. Requests for information can be emailed to info(at)fotobounce(dot)com.