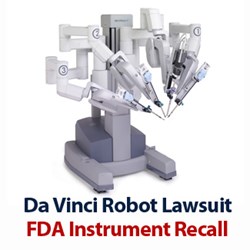 If you or a loved one have experienced Da Vinci robotic surgery complications contact Wright & Schulte LLC, for a free case reivew at 1-800-399-0795 or visit www.yourlegalhelp.com
Columbus, OH (PRWEB) December 10, 2013
The Da Vinci robotic surgery lawsuit attorneys at Wright & Schulte LLC were disturbed to learn that Intuitive Surgical, Inc. has warned that instrument arms used with the Da Vinci Surgical System may stall during surgical procedures. According to a new posting on the U.S. Food & Drug Administration (FDA)website, the agency has declared the warning a Class II recall. This designation indicates the affected instruments may cause "temporary or medically reversible" health problems.
[accessdata.fda.gov/scripts/cdrh/cfdocs/cfres
/rescollection_2.cfm?id=123823&
create_dt=2013-12-03]
Wright & Schulte LLC has learned from Bloomberg News, that 1,386 Da Vinci systems worldwide could be affected by this new da Vinci robot recall. Intuitive Surgical says it received one report of interrupted motion during surgery that resulted in an imprecise cut, and two others where surgeons reported feeling resistance. However, the company says no patients were injured. The recalled Da Vinci instruments are not being removed from the market. Rather, Intuitive has asked hospitals to schedule inspections of their da Vinci robots, so repairs and replacements can be made.
[bloomberg.com/news/2013-12-04/intuitive-warns-
surgeons-of-friction-with-robotic-surgical-arms.html, Bloomberg News, December 4, 2013]
For more information on the Da Vinci Recall and other Da Vinci Lawsuit news visit our website.
An earlier report from Bloomberg News, states the Da Vinci robot was used in more than 350,000 minimally-invasive surgeries last year. However, in recent months, Wright & Schulte LLC has taken note of the rising controversy surrounding the technology, as questions about both its safety and effectiveness have continued to mount. On November 8th, for example, the FDA released results of a physician survey that raised questions about the efficacy of current Da Vinci robot training protocols and the need for a more standardized approach. This year alone, the FDA has received 3,697 adverse event reports regarding Da Vinci robot complications, compared to only 1,595 reports for all of 2012, Bloomberg said.
[bloomberg.com/news/2013-11-11/robot-surgery-incidents-may-pressure-hospital-training.html, November 2013]
Wright & Schulte LLC further points out that in October, Intuitive reported that about 50 Da Vinci robotic surgery lawsuits had been filed on behalf of individuals who claim they sustained serious injuries during Da Vinci robot-assisted surgeries. According to a regulatory filing issued by the company, these lawsuits allege that patient injuries were either the result of inadequate training on the part of Intuitive, or defects in the technology.
[ sec.gov/Archives/edgar/data/1035267/000119312513297410/d551118d10q.htm; SEC, July 22, 2013 ]
About Wright & Schulte LLC And Filing A Da Vinci Robotic Surgery Lawsuit
Wright & Schulte LLC expects that that this new da Vinci robot recall will only add to the controversy surrounding the technology. The Firm is now offering FREE Da Vinci Robotic Surgery Lawsuit legal evaluations to alleged victims of Da Vinci surgery complications, including tears and burns of the intestines, torn blood vessels, excessive bleeding, infections, punctured or cut ureters, damaged bowels, or vaginal cuff dehiscence. For more information on filing a Da Vinci Robotic Surgery Lawsuit, or to arrange for a free legal consultation, please visit yourlegalhelp.com.
Wright & Schulte LLC, an experienced personal injury firm, is dedicated to the belief that America's legal system should work for the people. Every day, the attorneys of Wright & Schulte LLC stand up for the rights of people who have been injured or wronged and fight tirelessly to ensure that even the world's most powerful corporations take responsibility for their actions. If you're looking for a law firm that will guarantee the aggressive and personal representation you deserve, please do not hesitate to contact Wright & Schulte LLC today. Free Da Vinci Robotic Surgery Lawsuit evaluations are available through yourlegalhelp.com or by calling 1-800-399-0795.
Contact:
Wright & Schulte LLC
"An Experienced Defective Medical Device Law Firm"
1-800-399-0795
http://www.yourlegalhelp.com