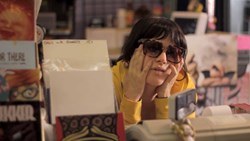 Actress Rebecca Teran brings high energy and acid wit to the role of comic shop maven.
Portland, OR (PRWEB) November 19, 2013
Mongrel Studios' original new web series Infinite issues follows comic shop clerk Becca Hererra (Rebecca Teran) and her misfit regulars, a band of oddballs strewn across the spectrum of geekery, as they awkwardly navigate relationships, sex and identity crises.
The three-episode pilot arc beginning November 18 chronicles the lead-up to an ill-fated booster draft that entangles the regulars in a bizarre affair doomed to end in catastrophe.
Described by viewers as "Cheers in a comic shop" with the surreality of Community and anything-goes lunacy of It's Always Sunny in Philadelphia, Infinite Issues is a unique and raunchier take on geek culture.
Inspired by their mutual experience working and loitering in comic book and gaming stores, Quinn Allan and Jared Yanez created Infinite Issues with the goal of exploring the neglected depths and diversity of geek culture while delivering a compelling, unique and occasionally flat-out absurd narrative.
"When Jared worked at a comic store I would spend my weekends parked across from him at the counter reading and musing on the stories we would one day tell," says producer and co-star Allan. "I never would have guessed that we'd finally get around to telling our own."
Like 30 Rock's Liz Lemon, Becca's best intentions in her workplace and social life are constantly at odds and often spin wildly out of control. Actress Rebecca Teran brings high energy and acid wit to the role of comic shop maven.
"Quinn and I both wanted a strong female lead to anchor the ensemble and Rebecca perfectly embodied all the facets we were looking to explore," says Yanez, who wrote and directed the pilot arc. "We hadn't seen the kind of female fans and comic shop folks we'd known over the years represented enough in media - fandom's often reduced to a few worn-out caricatures that can exclude anybody who doesn't fit an out-dated geek stereotype."
Infinite Issues was shot on-location at Cosmic Monkey Comics in Portland, Oregon, and showcases a dynamite ensemble of up-and-coming local talent, including Matt Voisine ("Hundredaires") as the lascivious Arlo and Lindsae Klein ("Sunshine Girl and the Hunt for Black-Eyed Kids") as the sinister Sativa.
"Infinite Issues isn't just about a card game tournament gone wrong, it's about a group of people who, despite their separate interests and hobbies, have found a place to call home and some people to call friends," says Allan. "In many ways it's a story about who we try to be versus who we really are."
With a recently successful Kickstarter campaign, Mongrel Studios (the company behind Infinite Issues) is fine-tuning a promotional strategy that includes guerilla marketing tactics at comic conventions, social media, and possible partnerships with geek-friendly businesses and websites.
Series Description
Infinite Issues' three-episode pilot arc follows the recruitment and explosive end to a doomed booster draft tournament for popular (fictional) card game, Du-GI-Dynn. The first episode debuts November 18, followed by the second on November 20 and the finale on November 22.
In episode one, "Right Hand of Doom," Becca tries introducing her "boyfriend" Chris (Joshua Stenseth) to collectible card games with unexpected results while her best friend Tom (Quinn Allan) has a casual encounter gone horribly, violently wrong.
In episode two, "Seduction of the Innocent," Arlo (Matt Voisine) coaxes Becca into luring Cormac (Jacob Bean-Watson) into joining the booster draft while Tom evades the affections of Sativa (Lindsae Klein).
In the pilot arc's finale, "Blackest Night," Becca and Tom get far more than they bargained for when the ill-fated booster draft draws the regulars, Chris and Sativa toward a shocking confrontation.
Watch the series' trailer: https://www.youtube.com/watch?v=mGwHW7HTVZ0.
Watch the first episode: https://www.youtube.com/watch?v=9jwKc3MSnUc.
About Mongrel Studios
In 2003, former high school rivals, misfits and filmmakers Jared Yanez and Quinn Allan gradually built a friendship over their mutual passion for film, music, comics and storytelling. Determined to continue making movies however they could while scraping out a living and grinding through school, Jared and Quinn formed Mongrel Studios in Escondido, California as an outlet for their creative endeavors in all forms of media. They've released independent movies, music and miscellanea since 2007 through mongrelstudios.com.
Mongrel Studios relocated to Portland, Oregon in the fall of 2008. That winter they shot their first Oregon production, the absurdist web series Really Good Reason, followed by their first feature, The Roomies, in addition to the surreal 'baby vs. orca' illustration series Orcakinder.
In 2013, Mongrel Studios successfully Kickstarted and produced Infinite Issues, a web mini-series about comic shop regulars mixing work and play with catastrophic results. The show debuts November 2013.