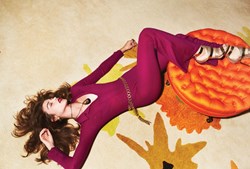 Palm Springs, CA (PRWEB) November 19, 2013
Located in downtown Palm Springs, California, Mr. Cox Lifestyle Lounge, a luxury boutique and water bar, celebrates its opening on Friday, November 29 from 10:00 a.m. to 10:00 p.m. Cocktails will be served and music will be provided by DJ Yannis from 5:00 p.m. to close.
Mr. Cox Lifestyle Lounge features modern clothing designs from the brand's eponymous label, as well as vintage couture from such designers as Paco Rabanne, James Galanos, Pierre Cardin, Gucci and Halston. Mr. Cox Lifestyle Lounge will also carry eclectic home accents by sculptor and master craftsman Don Drumm and coffee table books by Rizzoli, as well as men's sportswear by Parke & Ronen. Mr. Cox Lifestyle Lounge is also proud to announce that it is the only retailer in the Coachella Valley to offer select designs by legacy brand Chloé, a privilege that has traditionally been reserved for a select few high-end retailers.
The brand's first boutique, which only carried vintage couture, opened in Palm Springs in 2011 and was simply called Mr. Cox. The brand is now expanding, contemporizing and becoming a true lifestyle brand with the addition of current fashions and lux home items as well as a European style water bar.
Mr. Cox Lifestyle Lounge is located at 106A S. Indian Canyon, on the corner of Indian Canyon and Tahquitz Canyon.
Find Mr. Cox Lifestyle Lounge on Facebook.
###
About Mr. Cox Lifestyle Lounge
Mr. Cox Lifestyle Lounge opened in the fall of 2013 in downtown Palm Springs. The hybrid concept store offers an eclectic mix of vintage couture designs, contemporary fashions by such designers as Chloé, and luxury home items.
About ID.CREATIVE
ID.CREATIVE is a best-in-class public relations and digital media marketing agency supporting small to medium-sized businesses providing services to a broad range of clients at any marketing stage.