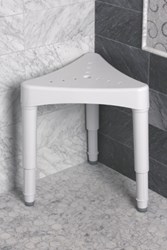 The Adjustable Corner Shower Seat is ideal for seniors as well as anyone who has a lower extremity injury.
Wayne, NJ (PRWEB) November 20, 2013
For many seniors the fear of falling makes them reluctant to perform some daily living activities. "This," Kathleen Hanek, Director of Product Management for Maddak Inc., manufacturer of Ableware® Aids for Daily Living, states, "is especially true when it comes to showering, and can compromise a person's ability to live independently." A solution for overcoming this is the new Adjustable Corner Shower Seat which provides a safe, stable seat while showering.
Conveniently sized to fit into corners and small spaces, the Adjustable Corner Shower Seat increases shower safety and helps to boost confidence and independence. When sitting with the legs astride one of the corners, the user has easier access to the feet. This is especially useful for diabetics who need to monitor their feet. In addition to the senior population Hanek tells us, "the Adjustable Corner Shower Seat is ideal for anyone who has a lower extremity injury or a disability that prevents weight bearing on the legs."
The Ableware® Adjustable Corner Shower Seat is height adjustable from 16 – 23" (40.6 – 58.4 cm) and, according to Hanek, "features Maddak's exclusive quick-change leg design that makes adjusting the height simple. The legs can be easily adjusted in ¼" (.64 cm) increments and they have non-slip rubber tips that hold the bench securely in place." The legs are removable for easy transport and storage. The Adjustable Corner Shower Seat has a weight capacity of 300 lb. (136.4 kg). Suggested retail price is $56.95. For additional product information go to http://www.maddak.com. For a copy of the Maddak catalog or a list of local dealers write, call, fax or email Maddak Inc., 661 Route 23 South, Wayne, NJ 07470, Tel: 973-628-7600, Fax: 973-305-0841 or visit the Maddak web site – http://www.maddak.com.
About Maddak
Maddak Inc. manufactures products that simplify the tasks of daily living – eating, drinking, dressing, grooming, bathing, toileting, etc. – for seniors, people with disabilities and people undergoing rehabilitation. The company mission is to provide quality products that enable people to maximize their independence and remain active despite any limitations they may face. Marketed under the Ableware® brand name, the Maddak product line includes over 500 products sold through medical and hospital supply centers, pharmacies, homecare centers and internet outlets. Established in 1971, Maddak Inc., headquartered in Wayne, NJ is the largest U.S. manufacturer of assistive devices, clinical modalities and home healthcare and rehabilitation products.