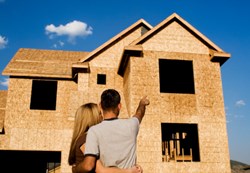 Newark, NJ (PRWEB) November 18, 2013
As military personnel return home, the risk of homelessness is an inescapable reality for many of our veterans. Recent estimates show that one in five homeless people in the United States once wore our country's uniform.
To combat this problem in our area, the GI Go Fund, a leading veterans' nonprofit organization that assists military personnel with finding employment and accessing financial benefits, is teaming up with Habitat for Humanity, the standard bearer for placing impoverished people in a home of their own, to create a Veterans Initiative for former service members living on the streets. The program will involve building homes for veterans and their families, with a focus on accommodating disabled veterans with specific living needs.
The first of these homes will be in Newark's West Ward, where ground has been broken on a four-bedroom home at 424 South Ninth St. The single-family home is scheduled to be completed by the end of 2013. The home will include accommodations for disabled persons like wider doorways, wheelchair accessibility, and other features that will better facilitate movement between the two floors as needed.
Jack Fanous, Executive Director of the GI Go Fund, is extremely proud of working with Habitat on this project, and is working to develop future homes for veterans who were displaced by Superstorm Sandy.
"This home in Newark is an incredible opportunity for the veterans who are in desperate need of assistance," said Fanous. "Habitat and their team have done fantastic work for people in need for decades, and we are so proud to be working with them to help a veteran and their family access the housing they deserve. And now, with so many veterans displaced by Sandy, we are looking forward to reaching out to veterans in devastated places like Seaside Heights, Toms River, Brick, and all the towns along Ocean County and the shore to give them the opportunity to get their lives back on track."
With Habitat for Humanity, the home in Newark is a great opportunity to give a veteran with disabilities the opportunity to live with comfort and peace of mind.
"We see this house as an opportunity to assist a deserving disabled military veteran who has served our country honorably," said Jeffrey Farrell, Executive Director of Habitat for Humanity, Newark. "This will soon be the proud home of a returning veteran; we will address all aspects of comfort and accessibility."
Among the groups who are assisting in fundraising for this home is TD Ameritrade, a top brokerage firm in the United States that has been a critical component to getting this home off the ground. In addition, Lowenstein Sandler LLP, the top law firm in New Jersey that has become well known for its philanthropic work for indigent people throughout the state, hosted a fundraiser for this project at their law offices in Roseland on Thursday, November 14 to assist in building this home and developing the funding for future efforts for veterans.