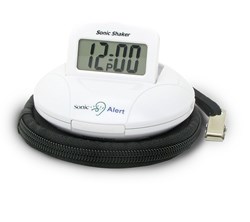 Troy, Michigan (PRWEB) November 19, 2013
The Sonic Shaker, portable alarm clock, is small, lightweight, and self-contained, making it the perfect travel alarm clock. From Thanksgiving dinner to the football games to early Black Friday shopping, with Sonic Shaker users won't miss a moment because they didn't hear their alarm.
Sonic Shaker comes equipped with a 90 decibel alarm and a bed vibrating unit built into the clock. With these two features combined this alarm clock is loaded with power to wake up the deepest of sleepers, yet it is small enough to fit in the palm of the hand.
The interface of the Sonic Shaker is easy to use and read with a .75" pop-up display. The pop-up display, of the Sonic Shaker, is manually lighted which will lead to 50% longer battery life.
The battery powered Sonic Shaker comes with a pillow strap clasp. This allows users to strap the alarm clock right to their pillow, making sure the alarm is heard and felt. To keep the alarm clock in good condition it comes with a protective travel case.
For more information, contact Sonic Alert 1050 East Maple, Troy, MI 48083. Phone 248-577-5400, Fax 248-577-5433, or visit sonicalert.com. Sonic Alert provides products to improve the lives of the hard-to-wake, elderly and the hard of hearing. They are committed to continually producing new and innovative products that fill their customers' needs.