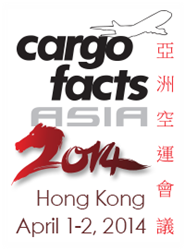 Seattle, WA (PRWEB) November 25, 2013
The third annual Cargo Facts Asia Aircraft Symposium will take place April 1-2, 2014, at the Langham Hong Kong, Air Cargo Management Group announced today.
Cargo Facts Asia, produced by Air Cargo Management Group and the Cargo Facts newsletter, has become the must-attend air cargo event in Asia. Focusing on identifying opportunities in Asia, the world's most dynamic air cargo market, Cargo Facts Asia provides actionable information for global air cargo, express and freighter industry executives looking to expand their businesses.
Cargo Facts Asia 2014 will feature sessions on trends in the Asia Pacific market, the future of the express industry, and emerging markets in Asia and beyond.
The event attracts executives from companies like Airbus, FedEx, Boeing, Cathay Pacific, DHL, KLM Air France, Air China Cargo and SF Express.
"Despite tribulations in the air cargo sector over the last couple years, Asia Pacific remains a land of opportunity for the industry, and we are pleased to return to Hong Kong to explore the market there," said JJ Hornblass, Chief Executive Officer of Air Cargo Management Group. "Cargo Facts Asia is the only conference to incorporate in-depth content with excellent networking for this sector. We are proud to be producing a conference that is so important to the industry."
Hong Kong International Airport (HKIA) will once again take on the role of host partner. This is the third year in a row that ACMG will partner with HKIA to present Cargo Facts Asia.
Cargo Facts Asia is one of several offerings for the air cargo sector from ACMG. For example, ACMG has produced the annual Cargo Facts Aircraft Symposium in the United States since 1994. The Symposium is highly-regarded and well-attended by senior executives of airlines, OEMs and conversion companies.
For more information about Cargo Facts Asia or to register, visit http://www.cargofactsasia.com.
About ACMG:
Air Cargo Management Group (ACMG) has uniquely served the aviation and airfreight industry since 1978 in two distinct capacities. ACMG offers aviation consulting and airfreight market research services related to freighter aircraft usage and airfreight and express market strategy. In addition, ACMG is one of the world's leading information providers to the air cargo industry. Since 1982, ACMG has published Cargo Facts, the "newsletter of record" for the air freight and express industry. ACMG and Cargo Facts jointly produce the annual Cargo Facts Aircraft Symposium and Cargo Facts Asia events. ACMG is owned by New York-based Royal Media, a leading information services media company.