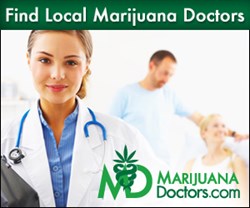 (PRWEB) November 19, 2013
420 Physicians is a medical marijuana certification center and medical facility that is located in Tracy, California. This location is responsible for providing services to Proposition 215 patients in the state with some of the finest services in alternative healthcare and nothing less. As a recent addition to the MarijuanaDoctors integrated network of reputable and fully-licensed medical practitioners, 420 Physicians is set to thrive on the Left Coast and tackle the on-going problem of patients searching for a legitimate recommendation. Please note that all of the patients who are serviced and certified through this location have been diagnosed and approved of having a qualified condition as per the Compassionate Use Act of 1996.
Not even closely comparable to your typical medical marijuana healthcare facility, 420 Physicians boasts an on-hand staff that is comprised of some of the most sincere and knowledgeable individuals. This location also boasts a state-certified physician and an on-site psychiatrist that is able to diagnose patients with post-traumatic stress disorder. Solely dedicated to helping those in need of an alternative treatment option, 420 Physicians also specializes in the processes of recommending medical marijuana evaluations, medical marijuana certifications and medical marijuana recommendations.
This location does not only believe in setting patients up with an appropriate treatment to best suit a specific need, but 420 Physicians helps educate patients on the pros and cons of using cannabis as an alternative medicine in order to properly convey the true medicinal benefits of this up-and-coming treatment. 420 Physicians absolutely vows to make sure that every question or concerned is approached and addressed in the most compassionate and understanding manner possible. Please note this location also makes its staff readily available to help any patients within the processes of filing and submitting documentation to obtain a California medical marijuana card.
Located in the beautiful city of Tracy, California, this area is the second most populated city in San Joaquin County and rests as an exurb of Stockton. Tracy pays homage to a population of around 83,000 residents, as of the 2010 census and is located inside a geographical triangle that is formed by Interstate 205 on the north side of the city, Interstate 5 to the east, and Interstate 580 to the southwest. For this reason, this has given rise to Tracy's motto, now recorded on the city's website: "Think inside the Triangle". The origins of Tracy are related to the mid-19th century construction of Central Pacific Railroad lines running from Sacramento through Stockton and to the San Francisco Bay Area. A number of small communities sprang up along these lines, including the one named for railroad director Lathrop J. Tracy.
Although 420 Physicians is physically situated in the lovely town of Tracy, the extensive services provided by this location are extended throughout the entire state of California. Residents living in the surrounding towns and cities around Tracy are also able to receive these beneficial healthcare services. Those in the towns of Livermore, Pleasanton, Stockton, Ripon, Modesto, Oakdale, Merced and Turlock are welcomed to enjoy and take advantage of the exceptional patient support services provided by 420 Physicians.