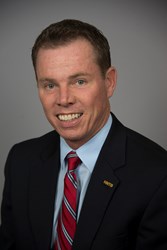 HNTB believes our country is on the brink of a sizeable expansion of the toll market.
Kansas City, MO (PRWEB) November 18, 2013
HNTB Corporation has expanded its national toll leadership team by naming a new vice chair of its toll practice and a new director of toll technology consulting, as well as hiring a toll market practice leader, all to advance its clients' programs as the importance of tolling in the United States grows as a proven funding option for infrastructure.
"HNTB believes our country is on the brink of a sizeable expansion of the toll market. As the Moving Ahead for Progress in the 21st Century Act enters its second and final year, the number of U.S. highway and bridge projects eligible to use tolls continues to grow," said Jim Ely, chair toll practice. "HNTB's addition of Kevin Hoeflich, and the promotions of Gregory Le Frois and Walter Fagerlund, will further solidify our combined portfolio of expertise and better align our services with needs of HNTB's five geographic divisions."
Kevin Hoeflich, PE, has joined HNTB as toll market practice leader, with primary focus on the East Coast. In this new role, he will focus on toll client service, strategic planning, recruiting and growing the toll practice. Although concentrating on both the Northeast and Southeast divisions, Hoeflich also will provide counsel and services to HNTB projects nationwide, including program management and priced managed lanes. Additionally, he will partner with the firm's national transportation practice to develop toll opportunities for state departments of transportation. He will work from HNTB's Lake Mary, Fla., office and report to Ely.
Hoeflich has more than 27 years of diverse industry experience. He has led national toll practices for two different firms, and has significant program management experience, including serving as a former program director in the general engineering consultant program at Florida's Turnpike Enterprise.
Hoeflich is a member of the American Society of Civil Engineers; Florida Engineering Society; International Bridge, Tunnel and Turnpike Association; and Transportation & Expressway Authority Membership of Florida.
HNTB is expanding its national leadership team with the promotion of industry veteran Gregory Le Frois, PE, to the position of vice chair toll market sector. In this role, Le Frois, a vice president and HNTB Fellow, will focus on market growth, client relationships and brand awareness on a national basis. He also will work closely with HNTB division leadership in further strengthening the firm's toll market position in each division and across other market sectors.
Le Frois has more than 34 years' experience in planning, design, engineering, technology and operations for toll roads, toll bridges and priced managed lanes. Since joining HNTB in 1982, he has provided services to more than 50 toll agencies and has grown HNTB's national toll technology and operations services to be the premier toll consultant in the United States.
Le Frois is based in the firm's Parsippany, N.J., office and is highly regarded within the transportation and tolling markets, having spoken at dozens of conferences and penned many articles, serving in various volunteer roles for both the International Bridge, Tunnel and Turnpike Association and the Transportation Research Board. Le Frois is HNTB's primary liaison with the IBTTA for national toll interoperability.
Stepping into Le Frois's previous position, Walter Fagerlund, PE, has been named HNTB director of toll technology consulting. In this national role, he will apply his experience in toll services to advance the firm's position in tolling technology.
Fagerlund, located in the firm's Portland, Maine, office, joined the firm in 2002 and will direct HNTB's national toll technology consulting practice, including a staff of almost 20 toll experts who provide advisory services to a variety of toll agencies nationwide.
His experience includes leading consulting projects throughout the life cycle of toll technology, including planning, procurement, implementation, operations and assessment. He specializes in technical advisory services to clients seeking to advance safety, congestion relief, customer service and long-term cost efficiency through advanced toll technology and operations.
In 2006, Fagerlund received the Younger Civil Engineer of the Year Award from the Maine Section of the American Society of Civil Engineers. He also is a graduate and instructor at the HNTB National Toll Academy and recently served as a senior-level course instructor at the University of Maine.
Including Hoeflich, Le Frois and Fagerlund, HNTB currently has 20 professionals on its national toll team, with 400 additional employees working in some capacity on toll-related projects. The past year has seen several staffing developments that organized the practice for future success and expanded its leadership ranks.
Other recent moves include: Jack Finn, PE, who was named executive sponsor of HNTB's priced managed lanes group; Ely, who was promoted to senior vice president and moved into the chairman role for the national toll practice; Matthew Click, AICP, who was promoted to vice president and national director of priced managed lanes; and Lisa Thompson, who has assumed a new role as director of toll client development.
HNTB is a leading consultant to toll agencies across the country, serving as general engineering consultant to more than 20 tolling agencies, more than any other firm in the U.S. It is a partner to 20 of the 36 transportation agencies nationwide that are operating, or developing, systems using priced managed lanes, also known as express lanes.
HNTB Corporation is an employee-owned infrastructure solutions firm serving public and private owners and construction contractors. With nearly a century of service, HNTB understands the life cycle of infrastructure and addresses clients' most complex technical, financial and operational challenges. Professionals nationwide deliver a full range of infrastructure-related services, including award-winning planning, design, program delivery and construction management. For more information, visit http://www.hntb.com.