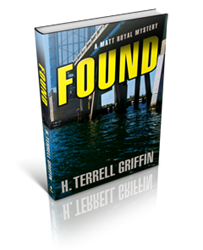 "VERDICT Griffin's eighth entry in his Florida mystery thriller series (after Fatal Decree) roars by in a flurry of high-octane encounters guaranteed to keep readers up all night." Library Journal
Longboat Key, FL (PRWEB) November 19, 2013
Oceanview Publishing proudly announces the release of FOUND by award-winning author, H. Terrell Griffin. FOUND is available in hardcover print (ISBN: 978-1-60809-099-0, List Retail: $26.95, Thriller, 360 pages) and all digital e-book formats (ISBN: 978-1-60809-100-3, List Retail: $14.95).
The Buzz...
"Expect jaw-dropping revelations to make for an unforgettable climax. VERDICT Griffin's eighth entry in his Florida mystery thriller series (after Fatal Decree) roars by in a flurry of high-octane encounters guaranteed to keep readers up all night. Heavy on dialog, like the best of buddy flicks."
—Library Journal
"This is an entertaining mystery with an intriguing plot, a vividly rendered southwest Florida location, and believable, likable characters, reminiscent of John D. MacDonald's Travis McGee novels, with a dash of Lee Child's Jack Reacher thrown in for good measure."
—Booklist
"There are so many twists and turns to this plot, you need a road map to keep up. Mr. Griffin seamlessly blends stories of the past during World War II with the present in the telling of this tale. This is the first Matt Royal Mystery that I have read, but I will certainly be reading the seven others that have preceded it. I'm a fan! If you are a mystery buff, you do not want to miss Found."
―Fresh Fiction
The Story...
When the serenity of beautiful Longboat Key, Florida, is shattered by a murder, and an elderly resident goes missing, Detective Jennifer Diane (J.D.) Duncan leaps into action. Her investigation is temporarily interrupted when she receives a text message with a current photo of a college friend she thought dead. Matt Royal— J.D.'s friend and more— jumps in to help her. Further assistance comes when Matt's friend Jock Algren visits. Jock is a shadowy operative of the U.S. government's most secretive intelligence agency, with ties all the way to the president.
As the mystery deepens, a group of devious and dangerous characters intrudes on the lives of the islanders, creating havoc unusual for a sun-splashed island full of retirees and beach bums. Matt, J.D., and Jock rush to find the answer to why one elderly man was killed and another disappeared, the meaning of the photo sent to J.D. of her almost surely-dead college friend, and why somebody is trying to kill them.
FOUND is available through Public Libraries and all better booksellers. FOUND is distributed by Baker & Taylor, Ingram, Midpoint Trade Books, Bookazine, and OverDrive.