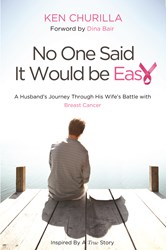 NO ONE SAID IT WOULD BE EASY is a raw, brutally honest account of one man's traumatic loss and his struggle to put his life back together, but in the end, is a story about courage and hope. - Elizabeth Fazio, Psy.D. & Licensed Clinical Psychologist
Nashville, TN (PRWEB) November 19, 2013
NO ONE SAID IT WOULD BE EASY is the gripping story of a man who lost his wife to breast cancer. Told through his eyes, the reader sees everything both medical and personal, the way he experienced it and how he reacted to the various experiences and situations at home, at work, in his mind, and in his private time. It recounts the heart-wrenching journey through his wife's fight for survival in this well-written and brutally honest chronicle that stands as a "companion guide" for all men caught in this war of all wars. The Do's, the Don'ts, and the I Don't Know's are all captured here in a vulnerable story that shines a light in such inevitable darkness. NO ONE SAID IT WOULD BE EASY takes the reader through all of one man's thoughts, reactions and emotions: his wife's initial diagnosis, her treatment, the declaration of her being cancer free, her relapse, more treatment, her decline in health, death, burial, and then moving on in all facets of his life as both a man and a father.
With a Foreword by Dina Bair of WGN-TV Chicago, and endorsements by former Chicago White Sox great / 1983 AL Rookie Of The Year Ron Kittle, country star Gretchen Wilson and child and family psychologist Dr. Frank Tantum, this book is designed to be a helpful tool for men who are going through—or have gone through—this horrific journey. It allows the reader to see inside the mind and life of a man who literally walked in their shoes, how he reacted to various situations and how he moved on with his small children.
Ken Churilla is a Chicago-based writer who was first published at the age of 16. As a career journalist, Ken's work has appeared in numerous magazines and newspapers all over the nation. He has also authored media kit artist biographies for artists such as Kenny Chesney, George Strait, Martina McBride, and others. This is Ken's first book.
NO ONE SAID IT WOULD BE EASY will be released November 19 in trade paperback (ISBN 978-1-939447-79-1) and in e-book (ISBN: 978-1-939447-80-7).