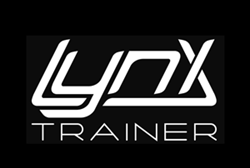 This is ultra-real, real-life stuff. It's video cycling simulation at its absolute best.
Toronto, Canada (PRWEB) November 20, 2013
Kostya Poukhov, VeloReality Corporation Founder and inventor of the LYNX VR Trainer, and Radek Lukosek, Manager of the high-end bike shop Wheels of Bloor hosted an exclusive event for the indoor trainer at Toronto's go-to store for Cervelo and other exclusive cycling brands last Saturday.
With the world's most advanced indoor trainer now available in Canada and internationally and with the VRide Simulation Software and Real Live Video Library now available for Wahoo KICKR and RacerMate Computrainer, and other resistance trainers, both offerings from VeloReality Corporation were taken to task by some of Toronto's most competitive riders.
The test riders were able to mount their own bikes into the LYNX VR Trainer and then choose the course they preferred. They were then able to ride their selected course -- feeling every tiny rise and fall in the road, every subtle change in grade, while watching their progress in crisp, real-time HD on a 72 inch display.
"Anywhere riders have to deal with snow and ice, indoor systems make a ton of sense but they're really very boring," explained VeloReality VP Marketing, Gary Bauer. "Now the full HD and high quality sensory simulation of our LYNX VR Trainer and VRide Software make indoor riding rock for the dedicated competitive rider."
"This is ultra-real, real-life stuff. It's video cycling simulation at its absolute best," said Wheels Of Bloor customer and competitive rider Johny Demetriadis. "I dread the boredom, the repetitive and drab aspect of the indoor riding season, but with this LYNX VR Trainer, it really is completely different. It's so real it's amazing. I want one."
Like many of the test riders, Dimitriadis was interested in how many different courses were available for the gift-giving season, and how much would they cost, as well as the structured workouts.
The LYNX VR Trainer is now available at Wheels Of Bloor and the LYNXRide Software and Course Videos are available on-line at http://www.veloreality.com.
Gary Bauer
1-888-480-1114 ext. 1
gary(at)veloreality(dot)com
VeloReality is the privately-held maker of the LYNX VR Trainer, a hyper-real system for the discerning cycling enthusiast or riding club. Built in Toronto, Canada, the LYNX VR Trainer comes with a limited warranty on electronics and a lifetime warranty on drive-train and software components. With a growing library of the world's most famous courses, the reality of the LYNX experience is matched only by the quality of its design, engineering and materials. Ride reality.