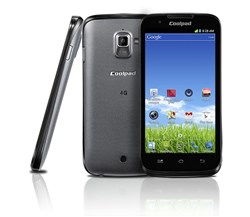 With the launch of the Quattro II we continue to show, day to day we are committed to giving to our customers the best and latest technology and service, at an affordable cost
San Juan, Puerto Rico (PRWEB) November 19, 2013
Open Mobile to launch a new smartphone, the Quattro II by Coolpad, optimized for the 4G LTE network, at a cost of $49.99. This new phone is exclusive to Open Mobile, and features a 4.5 inch touch screen, 4GB of internal memory, expandable up to 32 GB via microSD card.
"This new phone is ideal for the modern professional who needs a phone with a long-lasting battery, that allows them to make and answer calls, quickly surf the internet, do SMS or e-mails regarding his/her business day", expressed Juan Saca, president and CEO of Open Mobile. He added, "with the launch of the Quattro II we continue to show, day to day we are committed to giving to our customers the best and latest technology and service, at an affordable cost".
The smartphone features a 4.5" inch touch screen display, a stylish design, coupled with an impressively long-lasting battery allowing for talk-time of up to 13 hours. It is powered by Qualcomm Dual-Core Processor 1.2 Ghz processor, a 5 mega pixels camera with flash, running a stock version of the Android Jellybean OS 4.1.2.
About Coolpad
Coolpad Americas is a subsidiary of Yulong Telecommunications, who has been innovating in the mobile device market since 1993. Yulong Telecommunications launches over 50 smartphones a year, with smartphone revenues exceeding $2.4 billion in 2012, was recently ranked by TrendForce as the 6 largest global Smartphone manufacturer. Headquartered in San Diego, CA, Coolpad Americas hopes to bring a fresh perspective to the American smartphone industry by following the same principles that have guided Yulong over the last 20 years. For more information go to http://www.coolpadamericas.com.
About Open Mobile
Open Mobile is a leader company in the wireless communications market in the island. It was established on June 16, 2007. It owns a strong, modern and updated network, which allows to provide an agile and quality service to its customers.
Currently, Open Mobile generates more than 300 direct jobs, operates 29 stores and kiosks around the island, in addition it has a distribution chain over 130 indirect sales points.
For more information on products and services offered by Open Mobile you can visit http://www.openmobilepr.com.