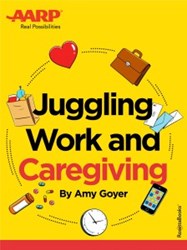 Although caregiving can be a richly rewarding experience, the role comes with enormous responsibilities — and pressures." - Amy Goyer, author of Juggling Work and Caregiving
New York, NY (PRWEB) November 18, 2013
A staggering 42 million Americans face the challenges of caring for a loved one while working. "Now More Than Ever" is the theme of this year's National Family Caregivers Month throughout November. Published by RosettaBooks, this new, free eBook guide, Juggling Work and Caregiving, developed by AARP, sponsored by Pfizer and written by AARP's Amy Goyer, offers support and useful tips to people who are caregiving day-to-day or are planning for future needs, especially in balancing caregiving and work.
"Although caregiving can be a richly rewarding experience, the role comes with enormous responsibilities — and pressures," said Amy Goyer, author of Juggling Work and Caregiving.
Goyer, an expert in aging and families, provides insight, inspiration and her own poignant story as a live-in caregiver to her parents.
A study by the National Alliance for Caregiving, in collaboration with AARP, reveals that 73 percent of caregivers are in the workforce and two-thirds of them say they must go in late, leave early or take other time off to meet their caregiving responsibilities.
The study concludes that whether caring for an aging partner, an elderly parent, or a child with special needs, balancing the tasks of care with a regular job can be overwhelming. This is especially true if the caregiving situation has come unexpectedly, if the caregiver has no help, or if caregiving puts a heavy strain on the family budget.
In Juggling Work and Caregiving, Goyer's practical advice on caregiving challenges includes:

Balancing work and caregiving: How to communicate with your employer, take full advantage of employer benefits, keep your career on track and manage work-life balance.
Caring for yourself, teamwork, staying organized: How to balance the time and energy of caregiving with your own interests and needs, build your team and learn practical approaches to organizing paperwork and household to save time, money and energy.
Navigating the legal maze and managing money: How to understand, in plain English, the basics, including advance directives, powers of attorney and estate planning, and how to increase income and lower expenses.
Handling health and medical care: How to manage complicated medical scenarios and evaluate the living situations of those in your care.
Experiencing the end of life and moving forward: How to support the people you care for sensitively through their final days and, as the caregiving ends, how to find your way to the next phase of your life.
"We believe that caregivers are both essential to our society and under-appreciated within it. Whatever your situation, this guide makes it clear: You are not alone," said writes Freda Lewis-Hall, MD, Pfizer's Chief Medical Officer, in the foreword of the book.
"Juggling Work and Caregiving illustrates one of the many topics in which AARP is a leader by providing content that is important to its readers," said Arthur Klebanoff, CEO of RosettaBooks.
Juggling Work and Caregiving is available for free download in the Kindle, Apple, Barnes and Noble and Kobo e-tailer stores.
About Amy Goyer: Amy Goyer began her career in caregiving more than 30 years ago, first as a music therapist working with children and then with older adults in day services centers and nursing homes. She has appeared on the Today Show, Good Morning America, CBS This Morning, NBC Nightly News, PBS Nightly Business Report and NPR, and her clients have included AARP, Generations United, MetLife, Georgia State University and Penn State University. She is the author of Things to Do Now You're a Grandparent and won the 2012 ALTY Best Blog Award in Caregiving category and as a Finalist in Seniorhomes.com's Social Media Rockstar Award.
About AARP: With a membership of more than 37 million, AARP is a nonprofit, nonpartisan organization that helps people turn their goals and dreams into real possibilities, strengthens communities and fights for the issues that matter most to families such as healthcare, employment and income security, retirement planning, affordable utilities and protection from financial abuse. AARP advocates for individuals in the marketplace by selecting products and services of high quality and value to carry the AARP name as well as help our members obtain discounts on a wide range of products, travel, and services. A trusted source for lifestyle tips, news and educational information, AARP produces AARP The Magazine, the world's largest circulation magazine; AARP Bulletin; http://www.aarp.org; AARP TV & Radio; AARP Books; and AARP en Español, a bilingual news source. AARP does not endorse candidates for public office or make contributions to political campaigns or candidates. The AARP Foundation is an affiliated charity that provides security, protection, and empowerment to older persons in need with support from thousands of volunteers, donors, and sponsors. AARP has staffed offices in all 50 states, the District of Columbia, Puerto Rico, and the U.S. Virgin Islands. Learn more at aarp.org.
About Pfizer: Inc.: Working together for a healthier world™
At Pfizer, we apply science and our global resources to bring therapies to people that extend and significantly improve their lives. We strive to set the standard for quality, safety and value in the discovery, development and manufacture of health care products. Our global portfolio includes medicines and vaccines as well as many of the world's best-known consumer health care products. Every day, Pfizer colleagues work across developed and emerging markets to advance wellness, prevention, treatments and cures that challenge the most feared diseases of our time. Consistent with our responsibility as one of the world's premier innovative biopharmaceutical companies, we collaborate with health care providers, governments and local communities to support and expand access to reliable, affordable health care around the world. For more than 150 years, Pfizer has worked to make a difference for all who rely on us. To learn more, please visit us at http://www.pfizer.com or Pfizer's GetOld.com.
About RosettaBooks: RosettaBooks is the leading independent digital publisher. Its prominent author collections include 52 works of Winston Churchill, 35 titles by renowned science fiction author Arthur C. Clarke, 20 works by Kurt Vonnegut, 12 titles from international bestselling business author Stephen R. Covey and 18 works by Robert Graves, celebrated 20th century English poet, critic, and author of I, Claudius and Claudius, the God. RosettaBooks also publishes eBook lines in collaboration with AARP, Harvard Health Publications and Mayo Clinic. Publisher of ten Kindle Singles, including Ray Bradbury's The Playground, RosettaBooks has launched nine of them to bestseller status. RosettaBooks is an Inc. 500 company, on the exclusive list of the fastest growing private companies in the United States. For more information, please visit RosettaBooks.com and follow the e-publisher on Facebook.