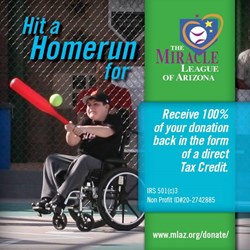 Scottsdale, AZ (PRWEB) December 02, 2013
The Miracle League of Arizona is a charitable organization that grants over 200 children and young adults with special needs the opportunity to play a game of baseball as a team member in an organized league. A gift to the Miracle League of Arizona in 2013 means donors can subtract that same amount from their Arizona taxes. This tax credit can be claimed regardless of itemization. Donors will receive 100% of their donation back, in the form of a direct tax credit, and it will mean the world to the children and families of the Miracle League. The stadium is located at Via Linda and Frank Lloyd Wright and games are played every Tuesday, Wednesday and Saturday.
"Every child deserves the chance to play baseball," said Dan Haren Sr., executive director of the Miracle League. "Every donation will enable the Miracle League of Arizona to continue to provide life-enhancing baseball and family activities to children who, before the Miracle League, only dreamed of playing organized baseball."
This Arizona tax credit allows donors to claim a personal tax credit up to $400 per couple ($200 as an individual). This is not just another deduction; it's a true tax credit that reduces the amount owed to the state - dollar for dollar. Donations can be made at http://www.mlaz.org/donate-online/.
About The Miracle League of Arizona:
The Miracle League of Arizona is a nonprofit organization located in Northeast Scottsdale dedicated to providing a safe, successful and enjoyable baseball experience for children, teens, and adults with disabilities or special health care needs. Its facility includes an adaptive playground and batting cages for athletes with special needs. The ballpark has a custom-designed rubberized turf field, to allow easy maneuverability for wheelchairs and other devices, and fully accommodates all the needs of every player and family for a full day of fun at the ballpark. Follow us on Twitter or Follow us on Facebook
If you would like to donate to the Miracle league, sponsor a child or volunteer please contact Casie Switalski director of operations at 480-686-8137 or email: cswitalski(at)mlaz(dot)org.