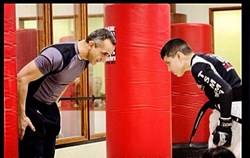 Twelve-year-old Eric Rodriguez goes above and beyond the spirit of martial arts and donates prize winnings to charity.
New York, New York (PRWEB) November 19, 2013
For children, martial arts often teaches the virtues of patience, discipline, practice, non-quitting spirit, and humility. However, the the case of one bright student of the sport, compassion for his fellow man became the talk of the school.
For the first two weeks of November, Tiger Schulmann's MMA ran a Facebook Photo Contest. The highly-sought-after prize was one free month of training for the 2 winners who accumulated the most votes. Eric Rodriguez won the top prize with the most votes.
Rather than do what many of us assume most 12-year-olds would do -- Eric chose to continue paying for his training and chose to give the equivalent as a cash donation as relief for typhoon victims in the Philippines.
"We have always been proud of Eric's achievements as a martial artist. He's always gone the extra mile to improve himself as a student and to help others in his class. When someone needs assistance, Eric is there," Says Shihan Ron Schulmann, lead instructor at the Manhattan location. "With this selfless donation to the millions of people who are suffering from such a horrible, horrible tragedy, I'm almost left without words. Considering Eric's age, I can only say, the young man is incredibly far ahead of his years and I know he will be a success."
Eric entered his photo – named "Non-Quitting Spirit," which shows Eric receiving his black belt from Shihan Ron Schulmann.
To find out more about Tiger Schulmann's Mixed Martial Arts, visit: http://www.tsk.com.