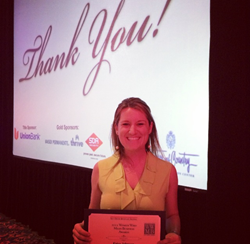 Erica is more than just a director for our department; she plays an integral role in the success of our company while giving back to our community and creating a sustainable future.
San Diego, Calif. (PRWEB) November 18, 2013
For the past 20 years, San Diego Business Journal has honored women business leaders who contribute to and make a significant difference at San Diego businesses. Erica Johnson, Director of Community Relations and Development at Sullivan Solar Power, was announced as a finalist for the San Diego Business Journal's 2013 Women Who Mean Business Awards. She was the only nominee representing the solar industry. Johnson is inching towards her fifth year with Sullivan Solar Power, San Diego's top solar power firm, according to California Solar Initiative data.
"I feel incredibly grateful to be a finalist for such a prestigious award," said Johnson, "It's an honor to be recognized in the same category with such accomplished women in our community who are truly making a difference locally and world-wide."
Johnson grew up in Newport Beach, Calif. and graduated from San Diego State University (SDSU) in 2009. While studying Public Relations and Business Administration, Erica found a passion for sustainability and politics through her involvement on campus. Highlights of her efforts on campus include establishing the first-ever bike lane at SDSU, laying the foundation for a weekly farmers' market, starting an annual Earth Day event with over 70 local businesses, creating a Sustainability and Environmental Studies major, increasing recycling receptacles and co-authoring the initiative for the first Leadership in Energy and Environmental Design (LEED) Platinum student union in the world.
Johnson initially became interested in solar photovoltaics during her time at SDSU when Sullivan Solar Power was installing the first of several solar installations on campus. Shortly after graduation in 2009 Johnson joined the Sullivan Solar Power team. She became the company's first Community Developer where she focused on community and government relations while emphasizing efforts on marketing and public relations. Johnson has established and maintained effective working relationships with clients, government officials, media representatives, businesses and local organizations.
Earlier this year, Johnson conceptualized a partnership with a local nonprofit, GRID Alternatives, which would give back to those who financially needed it the most, while promoting clean, renewable energy. For each new property that goes solar with Sullivan Solar Power, the company will donate one locally manufactured solar panel to GRID Alternatives. It is anticipated that 90 low-income households will receive free solar installations through this partnership. These generous donations allow families to eliminate their electric bills and utilize their limited funds on other necessities.
"Erica is more than just a director for our department; she plays an integral role in the success of our company while giving back to our community and creating a sustainable future," said Tara Kelly, Community Developer for Sullivan Solar Power. "Her unsurpassed dedication, positive attitude and exceptional work ethic exemplifies the characteristics of an excellent director, environmental steward and community leader."
Erica has remained active politically, and co-wrote legislation introduced to the California Senate by Senator Kehoe in 2012 to protect solar investments. She also helped build the San Diego Solar Coalition, an organization comprised of local solar power firms. Through her visionary efforts she was able to garner support from local solar firms, solar producers and local politicians to support California's solar market, our state's fastest-growing industry. Erica went to Sacramento and San Francisco to speak with influential representatives on behalf of the Coalition and also met with dozens of elected officials regarding solar power and how it can benefit our cities, schools and residents.
Each year, Johnson coordinates for Sullivan Solar Power to provide solar education kits to local K-12 schools for events such as the Junior Solar Sprint, a hands-on educational program that gives middle school students the opportunity to design, build and race their own solar powered model cars. The donation of the solar kits supports Science, Technology, Engineering and Mathematics (STEM) programming for youth in a fun and exciting manner. Through Johnson's Community Development department, Sullivan Solar Power also sponsors local community organizations, philanthropic groups and academic institutions with financial contributions. Under her leadership the company won the 2013 Community Leadership Award from the San Diego North Chamber of Commerce, which Sullivan Solar Power founder and president Daniel Sullivan attributed to Johnson's efforts in the community.
For more information about solar power, please visit http://www.SullivanSolarPower.com or call 1-800-SULLIVAN.
###
About Sullivan Solar Power
Sullivan Solar Power is a turnkey solar system provider that delivers solar electric projects from concept to completion. The company has installed over 14,000,000 watts of solar power ranging from small-scale residential to large-scale commercial and municipal systems. Sullivan Solar Power is headquartered in San Diego, CA and owned and operated by Dan Sullivan. Sullivan Solar Power has a longstanding A-plus rating with the Better Business Bureau, with no complaints filed since the business began. The firm has been named one of the fastest growing energy companies in the nation by Inc. Magazine for three consecutive years and services all of Southern California. Regardless of project size and scope, Sullivan is committed to delivering the best products and the most qualified professionals to its customers. Visit http://www.sullivansolarpower.com for more information.