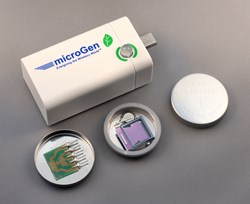 Rochester, NY (PRWEB) November 19, 2013
MicroGen Systems, Inc. (MicroGen) has developed the first commercially available piezoelectric MicroElectroMechanical Systems (piezo-MEMS) based vibrational energy harvester, which is a micro-power generator (MPG). MicroGen has created a DC power source by integrating its MPG with electronics and energy storage. The result is the BOLT™ Power Cell (see Figure 1), which was one of two winners in the third annual MEMS Technology Showcase® at 2013 MEMS Executive Congress® in Napa, CA on November 8, 2013 (MEMS Industry Group 11/14 press release).
MicroGen's BOLT Power Cells provide "Thing Power" – mechanical energy (e.g. vibration) converted to electrical power for electronics and sensors in 'Internet of Things' (IoT) applications. Potential IoT uses include, but are not limited to industrial and building wireless sensors, transportation systems (e.g. plane, train and automobile sensors), asset tracking (e.g. livestock management and monitoring cargo), wearable electronics (e.g. health monitoring and gaming) and other consumer applications (e.g. humidity sensors in clothes dryers, toys) and for analogous DoD/Homeland Security purposes.
MicroGen's CEO, Dr. Robert Andosca, presented the MEMS Technology Showcase winning presentation and live on-stage power harvesting demonstration using mechanical vibration from a flying Parrot AR Drone 2.0 Quad Rotor Helicopter (see award winning video including demos). "I am honored to have MicroGen and its BOLT Power Cell chosen by our industry peers to have the best live demo." He further added, "We are excited to help enable the 'trillion sensor world' vision."
"We were very pleased with all the finalists' live demos at MEMS Technology Showcase," said Karen Lightman, Executive Director, MEMS Industry Group, the host organization of MEMS Executive Congress. "We especially congratulate MicroGen Systems, which so impressed attendees with the energy harvesting capabilities of its BOLT Power Cell that it tied for the number one spot to earn one of two crowns awarded during the Showcase."
About MicroGen Systems, Inc.
MicroGen is bringing to market a suite of products based on its proprietary piezo-MEMS platform technology that is in production at X-FAB MEMS Foundry Itzehoe located north of Hamburg, Germany. This includes actuators, energy harvesters and sensors that can be designed and fabricated individually or as a system-on-chip (SoC).
MicroGen is an early stage start-up backed by strategic investment from semiconductor holding company Xtrion N.V., which is the majority owner of X-FAB. In addition, the New York State Energy Research Development Authority, The University of Vermont (UVM) Ventures Fund, Cornell University's Energy Materials Center, CenterState CEO and NY-based angels have provided funding.
MicroGen located in Rochester, NY is a UVM spin-out that developed its core piezo-MEMS platform technology at Cornell University. MicroGen is led by a strong international management team, Board of Directors and Advisory Board with significant semiconductor and MEMS industry and start-up company experience.
For more information, visit http://www.microgensystems.com.
"BOLT" and "Thing Power" are in the process of being registered trademarks of MicroGen Systems. All other product and company names are trademarks or registered trademarks of their respective holders.
About MEMS Industry Group
MEMS Industry Group (MIG) is the trade association advancing MEMS across global markets. More than 160 companies comprise MIG, including Analog Devices, Applied Materials, ARM, Bosch, Broadcom, Freescale Semiconductor, GE, Honeywell, HP, Infineon, Intel, InvenSense, Murata Electronics Oy, OMRON Electronic Components, Qualcomm, STMicroelectronics and Texas Instruments.
For more information, visit http://www.memsindustrygroup.org.
"MEMS Industry Group," "MEMS Executive Congress," "MEMS Technology Showcase" and the MEMS Industry Group logo are registered trademarks of MEMS Industry Group. All other product and company names are trademarks or registered trademarks of their respective holders.