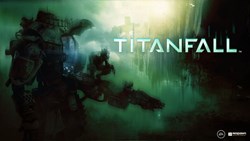 Titanfall Building Sets from K'NEX will bring the exciting worlds [of Titanfall] to life in a new way.
Hatfield, PA (PRWEB) November 19, 2013
One of the most highly anticipated video games of 2014, Titanfall™, will soon be transformed from onscreen play to building sets with new licensed building toys by K'NEX®. Respawn Entertainment, creator of the game which is set to release on March 11, 2014, and K'NEX, the only U.S. construction toy company focused on Building Worlds Kids Love®, are pleased to announce their new agreement to create a line of building toys based on the Titanfall video game.
The relationship combines the award-winning K'NEX building system with the Titanfall World, bringing it from the digital screen to the construction aisle for the first time. With over 80 prestigious gaming awards earned before the game's launch, Titanfall is full of exciting, explosive and thrilling action, and appeals to gamers of all ages. Titanfall will be available on Xbox 360®, Xbox One®, and PC.
"Titanfall Building Sets from K'NEX will bring the exciting worlds to life in a new way," said Michael Araten, President and CEO of K'NEX Brands. "Gamers and builders of all ages will have the opportunity to build the Titanfall Frontier right in their own homes. I can't wait to see how fans will take their digital game skills and use them in the real world!" exclaimed Araten.
K'NEX will provide a sneak peek of the new Titanfall building sets at the NY Toy Fair in Sets will include popular characters from Titanfall such as Pilots, multiple Titans, Spectres and other key elements from the game.
Designed for builders ages 8+, the building sets will bring the fun of the game to life, and expand its appeal through a rewarding, age-appropriate K'NEX building experience.
About K'NEX Brands
Founded in 1992, K'NEX Brands, the world's most innovative construction toy company, was established to make and sell what has become one of the world's leading integrated construction systems for children and is America's STEM building solution. Winner of over 250 international awards and recognitions, K'NEX, America's building toy company, is focused on Building Worlds Kids Love and encourages youngsters to "imagine, build and play." From the living room to the classroom, K'NEX has building toys specially designed for every age group and skill level. The K'NEX family of brands includes K'NEX Building Sets, K'NEX Thrill Rides, K'NEX Education, Lincoln Logs®, Tinkertoy®, NASCAR®, Angry Birds™, Mario Kart Wii™, Mario Kart 7™, Super Mario™, PacMan™ and more. Since 1992, The Rodon Group, a subsidiary of K'NEX Brands, L.P., has manufactured over 31 billion parts for the K'NEX building toy system. Join us as we help build the leaders of tomorrow. For more information, please visit http://www.knex.com or http://www.rodongroup.com.
About Respawn
Founded in 2010, Respawn Entertainment is an independent videogame development studio based in Van Nuys, California. The studio was formed by Vince Zampella and Jason West, former co-founders of Infinity Ward and two of the co-creators of the multi-billion dollar franchise Call of Duty™.Titanfall is the first game from the studio. More information about the company is available at http://www.respawn.com and more information about Titanfall is available at http://www.titanfall.com.
Respawn and Titanfall are trademarks of Electronic Arts Inc.