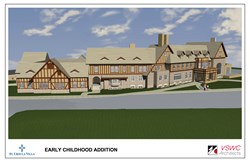 We believe it's the right time to again re-invest in our facilities for the benefit of current and future students to provide an optimal learning environment. - St. Ursula Villa Principal Polly Duplace
Cincinnati, OH (PRWEB) November 19, 2013
In one of the most comprehensive campaigns to-date in the school's 50+year history, St. Ursula Villa, an independent Catholic coeducational pre-K-8 school, announced today its Foundation for a Lifetime fundraising campaign. Seeking to raise $3.5 million over the next several months, St. Ursula Villa is embarking on a school-wide renovation of its 22-acre estate, including the iconic Manor House (formerly R.K. LeBlond residence) and the traditional K-8 Main School.
Continuing its core mission of educating children in a vibrant community featuring academic excellence, active parental involvement, and timeless Ursuline values, the Foundation for a Lifetime campaign will enhance the academic experience for every student through a more collaborative learning environment.
"St. Ursula Villa has maintained an ongoing commitment to educating and nurturing children into responsible, respectful, academically-prepared young adults for over 50 years," said Polly Duplace, principal, St. Ursula Villa. "We are extremely proud of our unique setting so we believe it's the right time to again re-invest in our facilities for the benefit of current and future students to provide an optimal learning environment."
Early Childhood students will benefit from new larger air-conditioned Montessori and Traditional preschool classrooms in the Manor House addition with dedicated space for lunch, nap and indoor play. For the Main School, a new state-of-the art Junior High wing will be added which will allow for existing classroom and program expansion for all students in Kindergarten through Junior High. The Early Childhood/Manor House facilities are already under construction and will be complete and ready for students in August 2014.
Kevin Jones, Chair of the Board of Trustees of St. Ursula Villa, noted that "through continued fundraising success," the Main School renovation and construction, including the Junior High wing, is projected to begin construction in spring 2014. August 2015 is the targeted completion date.
Added Paul Loechle, St. Ursula Villa Principal from 1984 – 2006, "A hallmark of the St. Ursula Villa community has always been its active and engaged parental community coupled with academic excellence through outstanding faculty and staff. The Foundation for a Lifetime Campaign will further cement the Villa's premiere position in Cincinnati as a sought-after institution for parents looking for a balance of faith, academics, and sense of community."
To learn more about the Foundation for a Lifetime Campaign or St. Ursula Villa, visit https://www.stursulavilla.org/master-plan.
About St. Ursula Villa
Founded in 1961, St. Ursula Villa is an independent Catholic coeducational pre-K - 8 school in the Ursuline tradition providing virtues-based development of the whole child and rigorous preparation for academic challenges ahead. Recognized for its academic achievements, the Villa is a unique educational experience based on the legacy of St. Angela Merici featuring small classes, individualized instruction, and nurturing of the whole child. For more information, visit http://www.stursulavilla.org.
# # #