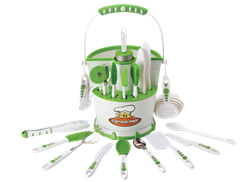 Oconomowoc, Wisconsin (PRWEB) December 05, 2013
Tailor Made Products, Inc. recently launched a new website for Curious Chef® that features an entire line of real cooking tools designed exclusively for children who want to help out in the kitchen. This is the only cooking line of its kind, and it is changing the way parents introduce children to the culinary world. The cooking utensils are brightly colored, sized for small hands and come with a built-in community of support on how to raise curious kids into cooking adults.
The website features the full product line in a responsive layout that enables customers to navigate easily on both computer and mobile based applications. Parents can search for tools by type, level of expertise and genre of cooking. The rating system allows customers to provide instant feedback on purchased products, so that new visitors to the site can read balanced reviews of each product. Many of the products have already become best sellers because they offer kids the unique ability to safely cook "just like mom and dad," And, studies have shown this type of hands-on experience helps in the learning process as well. The products are designed for any child to use safely, so parents can choose tools based on the skills they believe are most important.
"I let my daughter use her rolling pin to roll play dough and try the cookie cutters," said writer and stay-at-home mom, Michelle Lloyd. "She knew what to do when it came time to actually make the cookies, and she wants to help in the kitchen every time I bake!"
Curious Chef® has designed the website in conjunction with their mission to help build a generation of individuals who not only know how to cook but can use those skills to live healthy lifestyles. Each product offers a "learning by doing" section that provides parents ideas to familiarize their children the cooking tools. What appears to be "playing in the kitchen with mom and dad" actually serves the purpose of teaching kids important life skills. The various recipes and healthy eating blog entries available on this site give parents the tools to teach children to cook nutritious and wholesome foods. Not only will kids learn to entertain themselves with their very own cooking tools, but they will also build a foundation of nutritional knowledge to will serve them for the rest of their lives.
Cooking at home is an affordable and practical way to live a healthy lifestyle, and Curious Chef® products help children learn the ins and outs of preparing fresh ingredients and balanced meals. New customers have the option to start small with cookie cutters and mixing bowls and expand their children's repertoires to fruit and vegetable preparation kits and pizza making kits as their skill level grows. All cooking clothing such as aprons, chef hats and oven mitts are also available in multiple colors.
Visit the website at http://www.CuriousChef.com to enter the technological community of cooking tools made especially for kids. Sign up for the Curious Chef® newsletter to receive special offers and new recipe ideas on a regular basis. The website's helpful features are especially useful for family members who struggle when picking out gifts for children. The blogging community addresses child-related concerns in the modern culinary world and consistently offers new ideas for teaching children to cook.
Curious Chef® is a brand of Tailor Made Products, Inc., which is based in Oconomowoc, Wisconsin. Curious Chef® believes learning to cook helps kids build self-esteem, develop healthy eating habits, learn basic math skills and expand vocabulary. Additionally, cooking together fosters stronger relationships with family and friends and helps cultivate the all-important skill of following directions.
For more information, please visit http://www.curiouschef.com.