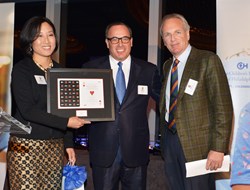 New York City (PRWEB) November 19, 2013
Hosted by poker legend Phil Hellmuth, Jr., The Children's Hospital of Philadelphia and WPT Foundation's "All In" for Kids Poker Tournament raised $725,000 featuring the Palliative Care Program at The Children's Hospital of Philadelphia.
Held at the Mandarin Oriental in New York City, the winner of the "All In" for Kids Poker Tournament was event co-founder and honorary chair Dan Shak, who Phil Hellmuth called "the best charity tournament player in the world," and who continues to be a staunch supporter of this tournament and The Children's Hospital of Philadelphia.
The WPT Foundation partnered with CHOP this year, raising "All In" for Kids to a higher level than ever before. In addition to Phil Hellmuth, notable poker players at the tournament, which will be featured in a segment on a future World Poker Tour episode, included WPT commentators Mike Sexton and Vince Van Patten, Vanessa Selbst, WPT Season IX Player of the Year Andy Frankenberger and Team partypoker members Jamie Kerstetter and Scott Baumstein.
Actor JD Williams of 'The Wire,' New York Giants lineman Justin Pugh, Eagles wide receiver Jeremy Maclin and Eagles five time Pro Bowler Mike Quick also participated in the event, and were joined by Children's Hospital chief executive officer Steven Altschuler, M.D., hospital trustees, doctors, donors and grateful patient families, such as Joel and Jamie Friedman who were instrumental during the "All In" for Kids Poker Tournament during its first year and continue their strong support.
The event also featured a charity auction where attendees were able to bid on sports memorabilia, vacations, and a tournament entry to January 2014's WPT Borgata Winter Poker Open in Atlantic City, donated by partypoker. The Borgata Hotel, Casino & Spa, a long-time supporter of "All In" for Kids, was instrumental in the evening's success, donating all of the poker tables and dealers for the event.
This year featured the Pediatric Palliative Care program at CHOP, one of the most highly regarded palliative care services in the country, with one of the largest interdisciplinary clinical and research teams in the field.
About The Children's Hospital of Philadelphia
The Children's Hospital of Philadelphia was founded in 1855 as the nation's first pediatric hospital. Through its long-standing commitment to providing exceptional patient care, training new generations of pediatric healthcare professionals and pioneering major research initiatives, Children's Hospital has fostered many discoveries that have benefited children worldwide. Its pediatric research program receives the highest amount of National Institutes of Health funding among all U.S. children's hospitals. In addition, its unique family-centered care and public service programs have brought the 527-bed hospital recognition as a leading advocate for children and adolescents. For more information, visit http://www.chop.edu.
About WPT Foundation
WPT Foundation is a non-profit organization dedicated to utilizing World Poker Tour's exceptional international platform to influence positive change on a global scale. The core of WPT Foundation's fundraising efforts is the ongoing series of philanthropic poker events titled WPT Playing for a Better World. WPT Foundation and its associated charity events help bring awareness and raise critical funds for non-profit programs of excellence.
###
Link for Getty images:
http://mm.gettyimages.com/mm/nicePath/gyipa_public?nav=pr200598606