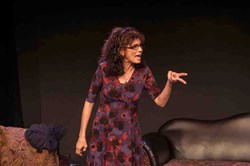 Georgia was such an important part of the art world and New Mexico. She was an independent force, a woman to be reckoned with unusual to say the least. Her personal adherence to her art is an inspiration. - Debrianna Mansini
Santa Fe, NM (PRWEB) November 21, 2013
On the heels of a successful six week New Mexico run of David Lindsay-Abaire'sTony Award winning play "Good People" in the lead role of "Margie", actress Debrianna Mansini is set to play Georgia O'Keeffe in a special performance staged reading at the Georgia O'Keeffe Museum in Santa Fe, New Mexico. Directed by Kent Kirkpatrick with actor Liam Lockhart playing Alfred Stieglitz, this special public event is a limited run, set for only three performances in December.
The famed letters were exchanged between the pair between 1915 and 1946, totaling nearly 25,000 pieces of paper, some letters up to forty pages in length. The letters give deep insight into their relationship, their art and the world in which they lived. The reading will be a selection from this massive collection of paper. "The correspondence between O'Keeffe and Stieglitz offers an intimate glimpse of their relationship," said Jackie M, Georgia O'Keeffe Museum director of education and public programs. "The letters were written during the years O'Keeffe created the works in the exhibition 'Modern Nature: Georgia O'Keeffe and Lake George,' currently on display at the Georgia O'Keeffe Museum."
Actress Debrianna Mansini is excited to have the opportunity to breathe life into the letters. "Georgia was such an important part of the art world and New Mexico. She was an independent force, a woman to be reckoned with~ unusual to say the least. Her personal adherence to her art is an inspiration." Mansini will be directed by Kent Kirkpatrick, a teacher at the Santa Fe University of Art and Design (SFUAD) when he is not directing and producing his own work. Actor Liam Lockhart, two time Emmy nominee for sound mixing, will play the role of Stieglitz. Lockhart is also a teacher at SFUAD as well as the Santa Fe Community College film school.
This selection of letters, edited by Sarah Greenougher, senior curator of photography at the National Gallery of Art and editor of My Faraway One: Selected Letters of Georgia O'Keeffe and Alfred Stieglitz, Vol. 1 will be performed at the Georgia O'Keeffe Museum in Santa Fe on December 5th and 28th at 6 pm and December 8th at Los Poblanos Cultural Center in Albuquerque at 4pm.
The Georgia O'Keeffe Museum is dedicated to the works of O'Keeffe, American Modernism, her legacy and life. It is the only Museum in the world dedicated to an internationally known female artist. The Museum posts this about O'Keeffe "One of the most significant artists of the 20th century, Georgia O'Keeffe (1887-1986) was devoted to creating imagery that expressed what she called "the wideness and wonder of the world as I live in it." She was a leading member of the Stieglitz Circle artists, headed by Alfred Stieglitz, America's first advocate of modern art in America. These avant-garde artists began to flourish in New York in the 1910s. O'Keeffe's images—instantly recognizable as her own —include abstractions, large-scale depictions of flowers, leaves, rocks, shells, bones and other natural forms, New York cityscapes and paintings of the unusual shapes and colors of architectural and landscape forms of northern New Mexico."
Debrianna Mansini, who will read the words of O"Keeffe, says it is quite a departure from her latest role of 'Margie' in Good People, running through Nov. 24th at the Vortex Theater in Albuquerque. "Margie is a Southie, a member of poor working class. Art is the furthest thing from her world of trying to survive a teenage pregnancy that gave rise to a severely disabled child. It will be a stretch in another direction - like a 180- for me as an actor. I am so pleased to have the opportunity."
The Georgia O'Keeffe Museum is located at 217 Johnson Street in Santa Fe, New Mexico.
The Los Poblanos Cultural Center is located at 4803 Rio Grande Boulevard NW, Los Ranchos de Albuquerque, New Mexico.
Tickets for the event are $25. Members and Business Partners, $20
Reservations: online at okeeffemuseum.org or 505.946.1039
About Debrianna Mansini:
Debrianna Mansini (represented by O Agency) is an actress who combines her talent with activism. She is deeply concerned with using the voice of her craft to shed light on women and social justice issues. Her NY roots and training live with her in New Mexico, her enchanted home base, along with her husband, accomplished artist David Forlano.
About Georgia O'Keeffe Museum:
The Georgia O'Keeffe Museum is dedicated to the artistic legacy of Georgia O'Keeffe, her life, American modernism, and public engagement. Located in Santa Fe, NM, the Museum's collections, exhibits, research center, publications and education programs contribute to scholarly discourse and serve diverse audiences. The largest single repository of the artist's work in the world, it is the only museum in the world dedicated to an internationally known American woman artist and is the most visited art museum in New Mexico.