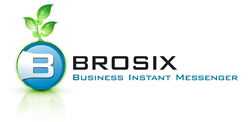 It takes time to build a business, and I am sure that Startup Weekend in Plovdiv put many on the right track.
(PRWEB) November 19, 2013
Brosix employees, including CEO Stefan Chekanov, recently participated in the Startup Weekend event in Plovdiv. During this time, entrepreneurs from around the area joined forces to share ideas, form partnerships, and launch new companies.
Additionally, many participants pitched their startup idea while also receiving feedback from others. From there, teams were formed and business models were created.
Members of the Brosix team were able to help others get their ideas up and running, while also networking with local business people.
Brosix CEO Stefan Chekanov had never attended a Startup event, but came away impressed in the end. He said, "It was a fun atmosphere with people from all over the area in attendance. Along with this, the ideas that were pitched at the beginning of the event were very interesting. And of course, the most important thing to me was the spirit demonstrated by the teams during the event. It was healthy competition at its finest."
At events like these, it is important for people of all backgrounds to get involved. From established companies, such as Brosix, to those who are looking to land a job or find a partner, there is something beneficial for everybody.
"I would definitely recommend this type of event to anybody who has the passion for building something new, or those who just want to give back to the business world," noted Chekanov. "It takes time to build a business, and I am sure that Startup Weekend in Plovdiv put many on the right track."
To learn more about Brosix, including participation in upcoming events, please visit http://www.brosix.com.
About Brosix
Brosix offers all-in-one instant messaging incorporating audio and video calls, sending screenshots, co-browsing, whiteboard and desktop sharing technology to provide an easy-to-use online meeting solution for high-quality online business collaboration. Used by more than 100,000 registered users, Brosix customers consist primarily of small- to medium-sized businesses. At present, more than 10,000 corporate customers in over 70 countries worldwide are using the Brosix private instant messaging networks and benefiting from significantly reduced travel time and travel expenses. Launched in 2006, Brosix is continuing to provide great enterprise instant messaging software to thousands of users around the world.