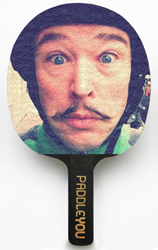 PaddleYou's new custom ping pong paddles are completely Made in New York and are designed to make table tennis more fun for everyone.
New York, NY (PRWEB) November 19, 2013
Custom ping pong paddle service PaddleYou announced upgraded table tennis paddles that are Made in New York, the ping pong leader's home state and still cost only $29.
The new paddles feature better control, an all-black style designed to make user's images look better, and are designed, manufactured, and customized in New York.
PaddleYou was intent on not only being able to say the game improving paddles were Made in the USA, but Made in New York. "Our paddles have become the favorite of table tennis players around the world, and we're proud to be offering paddles made entirely in our home state of New York," said Cooper Fallek, President of Table Tennis Nation, PaddleYou's parent company.
The company also updated the PaddleYou.com website with a new paddle designer, more design options, a gallery of user-generated designs, and a blog. The responsive paddle designer allows users to put any image from their Facebook, Instagram, computer, smartphone, or tablet onto the renowned game improving custom table tennis paddles.
PaddleYou paddles feature an 11 layer blade with 9 layers of wood, 2 layers of carbon, a 25% bigger face, and a giant sweet spot, all of which are part of a patent pending system designed to make the world's most played sport, table tennis, easier and more fun for players of all abilities.
The PaddleYou team created dozens of new prototypes before finalizing the new paddles and worked with table tennis players, designers, and artists to create a paddle that looks and plays better than any other table tennis racket. The customization process does not affect the paddle's quality of play and the new Made in New York paddles are consistent with PaddleYou's goal to make ping pong more fun.
"These paddles allow players of all skill levels to play ping pong the way it is meant to be played: with long rallies and lots of fun," said Steve Berger, the champion table tennis player who oversaw development after the passing of Marty Reisman. The new paddles, which can be customized at PaddleYou.com, cost only $29 and are designed to help players beat paddles that cost over $200.
PaddleYou dramatically changed the face of the ping pong industry when it first released its design-your-own paddles website; since PaddleYou launched, thousands have designed their own ping pong paddles while events around the world have featured custom PaddleYou designs.
The custom paddles are the perfect unique holiday gift for players of all ages, all over the world. The paddles are also perfect for employees, clients, and friends, and with the new PaddleYou.com, users can design paddles for everyone in a single session or even send gift cards to allow recipients to design their own paddles.
The all-new Made in New York custom ping pong paddles can be designed now at PaddleYou.com.
About PaddleYou
PaddleYou.com is the world's premier custom ping pong paddle designer. Users can create custom game improving table tennis paddles using pictures or designs from their Facebook, Instagram, computer, phone, or tablet for only $29 plus shipping. Made in New York.
Contact Info
Cooper Fallek
(646) 481-8861
cooper(at)tabletennisnation(dot)com