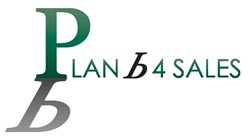 The partnership with Plan B 4 Sales is a perfect example of how powerful Sales and Marketing can be when aligned and integrated.
San Francisco, CA (PRWEB) November 20, 2013
Plan B 4 Sales and Four Quadrant announced a strategic partnership to deliver sales and marketing processes and services that have been proven at numerous start-ups and public companies. The partnership ensures that organizations will build harmonious sales and marketing organizations that leverage industry best practices.
Four Quadrant's services span "Rent-a-CMO" with 30 years experience (15 years at F500 companies and 15 years at emerging growth companies) to building, rebuilding or transforming a marketing organization to the successful design, development and execution of focused go-to-market projects that are based on proven marketing blue prints.
Peter Buscemi, CMO and founder of Four Quadrant, states: "Startups benefit by partnering with Four Quadrant as they are able to buy marketing headroom and that is important as the marketing issues a CEO raises are typically surface in nature. Less experienced marketers will skate to the puck only to find that the puck has moved by the time they get there. Having experience building companies, working with numerous CEOs and management teams provides an advantage not only to setting objectives and developing effective strategies but to guiding flawless tactical execution."
Buscemi continued by stating: "Four Quadrant allows companies with established revenue run rates to change the marketing tires while the organization runs at 60 miles an hour. Organizations today do not have the luxury to stop, rebuild and then continue—there is no pause button. Four Quadrant has the experience and expertise to optimize the revenue contribution of marketing organizations by synchronizing marketing & sales to increase revenues by an order of magnitude. The partnership with Plan B 4 Sales is a perfect example of how powerful sales and marketing can be when aligned and integrated. Steve has pulled together the best of the best to offer complete and integrated sales & marketing solutions to companies that have never been available to companies through a single source."
Steve Mount, CEO of Plan B 4 Sales adds: "I've been in enterprise software and technology sales for more years than I care to admit and have worked with dozens of CMO's. What is absolutely unique about Peter is his singular fixation on providing an unending stream of reasonably hot leads to the sales organization. His strategies and tactics are extremely focused, pragmatic, cost efficient and amazingly effective at loading the sales funnel. With Plan B 4 Sales building out both in-house and field sales and providing lead generation and sales development services to our clients, I'm sure we'll be making good use of Pete's 30 years of experience."
"Plan B4 Sales services B2B enterprise technology start-ups, both pre and post round A funding. A second focus for us is companies approaching $30,000,000 in sales and looking to standardize sales/marketing best practices and both scale and stabilize the organization going forward. Pete has experience and offerings in both our core markets. We're very happy to have him on board."
About Four Quadrant:
After 30 years of marketing with F500 and startups, Peter formed Four Quadrant, LLC in 2004 so he could work with as many CEOs, GMs, VPS and VPMs as possible. The focus has always been to provide more experience than what an organization thought they needed to ensure that considerable value was delivered with each engagement, with the shortest ramp and the most efficient spend. Engagements range form serving as the Interim VPM for all or part of marketing to driving key projects. Peter consults, teaches advanced Marketing as part the University of San Francisco's Executive MBA Program, advises early stage companies, writes a blog, created and leads a seminar, "The DNA of Demand Creation".
About Plan B 4 Sales:
Plan B 4 Sales is a sales and marketing incubator, offering a wide array of contract sales strategy, sales enablement, go to market and brand development services. Our contract sales resources are all tenured, enterprise technology sales people with at least 15 years experience opening doors, defining client needs and closing business. Our trainers and service partners have all been delivering the services defined on our web site for at least 8 years. We are well equipped to help a start up develop an initial sales effort, or provide an existing sales force with the tools and techniques to accelerate growth and attain organizational stability. Whether you are seeking seed capital, a mezzanine round or simply preparing for the next board meeting, a Plan B 4 Sales engagement will make you much better prepared for the sales and revenue projection questions that invariably arise. We are very adept at finding low hanging fruit that delivers a lot of juice with a little squeeze.