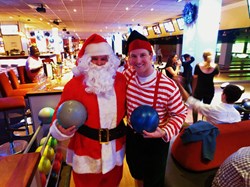 Frames, a Bowling Lounge in Midtown Manhattan decided to hold an 'Enter to Win Your Holiday Party' sweepstakes. The hundreds of entries they received were extraordinarily touching.
New York, NY (PRWEB) November 25, 2013
Entries poured in from all over New York City: frustrated school teachers, overwhelmed retail execs. Each email contained a detailed answer to the question: why does your company deserve a complimentary Holiday Party at Frames Bowling Lounge this year?
The overall message was clear. Employees want to feel appreciated during the holiday season. Workers feel entitled to a December event where they are rewarded for a year of hard work, and a party lifts overall morale. However, from hospitals to airlines, hosting a Christmas party this year was unfortunately not an option for some companies.
A well deserving group was eventually chosen winner. After much deliberation, Frames Bowling Lounge decided to host the ABC newsroom team for its complimentary holiday event. The award-winning newsroom staff had been following storms, wars, elections and dirty politicians all year (think: Weiner, Spitzer, Ford etc), but didn't have a seasonal holiday party planned because of lack of funding.
"I think we just had to return the favor to those men and women who provide us with national and international news on a daily basis," said the marketing manager at Frames when they made the final decision. "We hope the public agrees with us that these hardworking staff members were the obvious right choice. The News business may seem glamorous, but its really all grit and tireless devotion. This newsroom team is focused 24/7 on getting important stories out to the public, and making developing news available in real time."
Below are some of the moving entries received since October. WARNING: get yourself a Kleenex.
"A holiday party would really help boost company morale in light of a recent merger. Some departments are often forgotten in the grand scheme of things and we really work as a team over here. I believe my colleagues deserve it."
"My team deserves to win the frames holiday party because . . .We are a FAMILY. The ten of us are as close as could be and friendly fun-filled competition (like bowling) just brings us closer together. We have fun at work, and we like to continue the fun after work. As one of only 3 girls on a team of 7 guys I feel like I have 7 big brothers always looking out for me. As the proverbial little sister, I take care of them as well (baking, ordering candy for them, and making them laugh). My two sisters on the team and I are glad to have each other and spend some girl time alone when we can."
"I just started a new job after a few months of unemployment, and I need to do anything I can to make a good impression with my coworkers and bosses. I think this would go a long, long way!"
"I work at a CPA firm in Manhattan. We are open all the time: no public holiday for us! Christmas can be especially hard for some of the employees; a lot of them come from abroad and, given the workload, can't leave the office at this period of time to celebrate with their family in their home country. A great Christmas Party would be an awesome way to thanks all the employees for their hard work, as well as motivate them for the coming year (which starts with a tough tax season!)"
"We need a party. Please help."
"I work for the City of New York Human Resource Administration, Office of Child Support Enforcement. I would love to have us win this fabulous once in a lifetime event. We work hard everyday in the most unglamorous of offices and we never have the opportunity to experience fancy events the way a private company would be able to. There are about 35 of us and we work out of Manhattan Family Court on the 7th floor with no windows but we do NOT complain, we are grateful to be working and we REALLY do know that the work we do is important for the children in NYC. No one knows I'm trying to do this, it would be a great surprise for us all."
"My company should win because we work really hard, and it would be nice to unwind and spend time together outside of work."
"I work as a teacher at elementary school P. S.139 in Brooklyn. I know we're not a company but I think we should get the party! We work extremely hard every day teaching the future of NY and we are underpaid and underappreciated. We can really use a night out in a fine establishment such as yours to just kick back, relax and take a load off. We usually have our holiday party at a local neighborhood bar because its cheap."
"We're an international group with employees from all over the globe, many of whom have never had the opportunity to try their hand at bowling; that wonderfully all-American game! This party would help to bring us closer together as a community, let us better understand our international brethren/sistren and help them to better understand--feel more a part of--their adopted homeland."
"This would truly be a first; we never got together for just enjoying ourselves and having a good time. I will be retiring from the Hospital along with two of my co-workers at the end of December, with 41 years of service. The others have 39 and 27 years of service. A holiday party together would surely help provide memories, laughter and happiness. We all hope that our dream would come true. Thank you for this opportunity, have a nice holiday."
"My friends and I should win a great holiday party at Frames because we're all broke actors who could use some great entertainment at the holidays instead of us being the ones doing the entertaining."
"I was transferred in July to a different department, and have been complaining everyday about the transfer. If I won this party, then maybe we could have a little camaraderie and fun. Thank you so much for this opportunity join together for the holiday and PARTY!"
"I am an Assistant Editor at a Comic publication specializing in publishing non superhero comic books. We recently learned that the entire company will be moving out of New York and into LA. It's been a really trying couple of weeks and all of our employers have a lot to consider in terms of the move. Therefore, we deserve an amazing holiday party - perhaps the last with all of us together."
"I am the 27 year old son of the owner of a Martial Arts studio in the West Village; my dad is 70 years old; I feel I need to prove myself to take over this business."
"My company has recently transitioned certain departments, thus eliminating a lot of jobs. A lot of my friends and colleagues, some that I have known for close to 15 years just had their last days in Oct. There are only about 30 of us left (from close to more than double that number) and most of our last days are Dec 31. It would be nice to win this contest so that at least we can have something to celebrate over the holidays."
"We are a group of educational specialists who NEED something different and exciting to experience this holiday season. The usual private room with drinks and the same appetizers is indeed getting old. The chance to be active with bowling and billiards would be a welcome change and lead to a never to be forgotten Holiday Party."
"Since I've been at this company, we haven't had a holiday party. We currently have a new Sales leader; it would be an honor and a pleasure to win this luxurious celebration with new coworkers and end the year with a bang! We also have a facility in the Bronx, and could compete against them in bowling. Thanks for this opportunity."
There were many more entries received; all sweet and pleading.
So, listen up Managers, next time you think about cancelling your seasonal Holiday Party, remember that your dedicated employees deserve better, and will think you are a Scrooge.
ABOUT FRAMES:
FRAMES is a Bowling and Billiards Lounge located on 9th Avenue at 40th Street in NYC. It features a gracious lounge, 2 bars, a Billiards room and 28 sleek bowling lanes, including 2 with VIP access. The NYC Bowling Lounge has a modern, luxurious vibe, and is considered the ultimate spot in nightlife and bowling entertainment. To find out more about Frames Bowling Lounge, visit http://www.framesnyc.com.