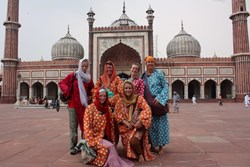 Guests can expect to expand their family circle, joining other curious and courageous women to discover, heal, and awaken through travel.
Bellevue, WA (PRWEB) November 19, 2013
Global Family Travels is adding another inventive program to its growing roster of life-changing trips. While maintaining a commitment to family-focused travel, the service-learning travel pioneer is proud to announce Mystical Mamas Visit Mother India, the company's first women-focused tour. Through a combination of group discussions, experiential travels, meditation and yoga, female guests will explore the rich cultural heritage of India.
The Mystical Mamas tour unveils the spiritual side of Indian culture with a 14-day itinerary, beginning June, 2014, that encompasses many of the country's most significant cultural sites such as the Lotus Temple in Delhi, Bodh Gaya, Varanasi, and the stunning Buddhist monasteries of Ladakh. Guests will have the opportunity to attend the renowned Kalachakra Initiation and to see His Holiness himself, the Dalai Lama.
Presenting opportunities for self-reflection and growth, the Mystical Mamas tour takes guests on an enriching service-learning experience, volunteering at an orphanage in the village of Saboo, in Northern India's Ladakh region. Participants will immerse themselves into the children's daily life, by assisting with facility upkeep, organizing programs, and sharing life experiences with the 25 children who live and go to school there.
"Mystical Mamas offers female travelers the chance to learn, serve and immerse in a fascinating and ancient culture," says Global Family Travels' founder Jennifer Spatz. "Guests can expect to expand their family circle, joining other curious and courageous women to discover, heal, and awaken through travel."
Spatz received an overwhelming number of requests to craft a women-focused program based on Global Family Travels' core values, to learn, serve and immerse through meaningful experiences, and authentic cultural activities throughout the world. The Mystical Mamas tour answers this demand.
Mystical Mamas Visit Mother India Spiritual Tour Summary:
Itinerary: Delhi- Bodhgaya-Varanasi-Leh-Delhi
Duration: 13 days, 12 nights
Serve: Volunteer opportunity with orphanage and with Siddhartha School Project
Dates: June 21 - July 5, 2014
For more information on the Mystical Mamas Tour, visit: http://globalfamilytravels.com/india/mystical-mamas-india-spiritual-tour/, or contact Global Family Travels at (206) 890-3442 or info(at)globalfamilytravels(dot)com.
About Global Family Travels
Global Family Travels' mission is to build cultural bridges and foster global citizens. Global Family Travel's network of experienced guides and exclusive itineraries offer families and private groups safe access to life-changing cultural experiences through travel. Expand your family circle by joining Global Family Travels in 2014 for an amazing cultural immersion experience in China, India, Nicaragua, Peru or Turkey! See website for more information on each tour: http://www.GlobalFamilyTravels.com.