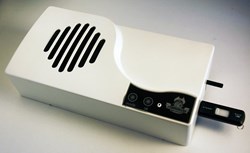 You Cant Knock It
Sparta, NJ (PRWEB) December 21, 2013
Predominance LLC has just released a new version of their Tommyknocker Digital Doorbell operating system for newly manufactured doorbells. The enhancement untangles some errors with memory stick management whereby end users are free to upload their favorite MP3 files on the factory stick without any playback glitches. The Tommyknocker was designed primarily for the use of personal MP3 files, but because of the code protocol, all files must be re-named to play in a possible combination of 4 doors, i.e.: front, back, sideL, sideR. This is a feature only offered by Predominance LLLC. Most doorbells are only designed to play one door. Once the files are named accordingly, the Tommyknocker may play Front files in rotation mode. This offers users more variety with their files and rids the monotony of a single doorbell sound byte.
The Tommyknocker is a USB digital doorbell devise that may play as many as 5 sound files in rotation mode, or play a single sound bytes on the door of your choice. The doorbell uploads your favorite MP3 songs through a supplied preprogramed USB memory stick. The stick comes with an assortment of factory supplied sounds or may be loaded with your own files. Predominance recommends truncating, or shortening sound files to 10 seconds or so unless you would like an entire song to play all the way through. MP3 files are easily converted from other file formats either through iTunes or with 3rd party file converters.
This digital MP3 device is designed for years of hassle free use using safe 12 volt low voltage that generates virtually no heat, and is bolted together on a steel chassis, not glued. The Tommyknocker Digital Doorbell makes the perfect Holiday gift for someone searching for a new doorbell. Users can upload their favorite songs from "Silent Night" to Ol' Lang Syne" to celebrate the season. Please see http://www.tommyknockerdoorbell.net for more details.