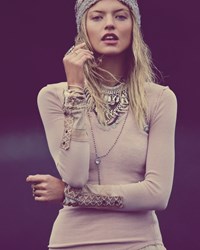 (PRWEB) November 19, 2013
Specialty clothing brand, Free People, is set to open its 89th boutique at Westfield UTC in San Diego, CA on December 6th, 2013. Currently operating twenty dedicated stores in California, the new location will be the first in the central San Diego area for Free People. The 2,500 square foot boutique will open just in time for the holiday season, stocking a vast assortment of gift items in addition to the boho-chic essentials the brand is known for.
The store will be designed in the brand's 'Boho Bungalow' concept, inspired by Free People's globe-traveling girl and the collections that she curates and displays. Hand-carved teak windows and a Bhutti lantern near the entryway will welcome customers into the light-filled space. To add a touch of rugged edge, the ceiling will be made of exposed rough sawn joists and the floors of reclaimed wood. Painted carved slats and glitter plaster walls will decorate the store, along with a custom-built cashwrap backed by a handmade yarn display.
With the opening in early December, the boutique will carry an assortment fit for the holidays, including specialty gifts, sweaters, and a large selection of accessories. Party dresses will be prominent, giving customers a wide range of styles to celebrate the season. A rich selection of bags, necklaces, and earrings will provide the perfect addition to any look. The store will also be well stocked with everyday relaxed and comfortable pieces including slouchy sweaters and soft denim, as well as feminine slips and day dresses to transition into the upcoming spring season.
"We are pleased to join Westfield UTC during the holiday season. This is such an exciting time for retailers, and we are happy to be able to bring the Free People holiday shopping experience to San Diego customers and fans," says Beth Wehagen, Free People Director of Stores.
Each of the brand's boutiques has a full team of styling experts to help shoppers get a complete Free People look, but inspiration can also be found with Free People's online Style Community, FP Me. This offers all Free People girls a way to share their personal style, create looks, curate collections, and connect with other FP fans.
The store is located at Westfield UTC at 4545 La Jolla Village Drive in San Diego, CA 92122. Store hours will be Mon-Sat 10am-9pm and Sun 11am-7pm. Fans should also "like" the store on Facebook to stay up-to-date on all of the latest arrivals, events, and other happenings. (https://www.facebook.com/pages/Free-People-San-Diego/573312899393598)
###
About Free People
Free People is a specialty clothing brand featuring the latest trends and vintage collections for women who live free through fashion, art, music, and travel. The eclectic look consists of quality apparel, shoes, and accessories that invoke attributes of femininity, spirit, and creativity with its design. Free People is distributed globally via direct channels including the Free People Global site and Free People UK site, as well as specialty boutiques, top department stores, and the brand's free standing retail locations in the U.S. and Canada.
About Westfield UTC
Westfield UTC is San Diego's iconic, open-air shopping and entertainment destination with premier shopping, dining, fitness and entertainment. Anchored by Nordstrom, Macy's and Sears, Westfield UTC delivers the quintessential San Diego experience through gold standard customer service and amenities, luxury brands, a family-friendly experience, along with signature events and entertainment. Shoppers can browse premier brands including ArcLight Cinemas, Tiffany & Co., J.Crew, Splendid, Anthropologie, Bare Minerals, Ann Taylor, , Apple, Tumi, Crate & Barrel, Restoration Hardware and Williams-Sonoma or simply unwind under the coral trees and relaxing sunshine at Westfield UTC, where the southern California lifestyle is at its best. Regular Shopping Hours: Monday – Saturday 10am-9pm, and Sunday 11am-7pm. Westfield Customer Service: 858.546.8858. http://www.westfield.com/utc.