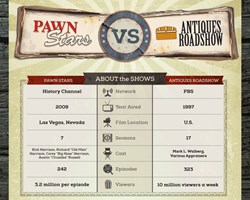 Chicago, IL (PRWEB) November 19, 2013
Each week, more than 10 million combined viewers cozy up to the television and watch "Pawn Stars" or "Antiques Roadshow"—maybe both. These shows are one part history lesson and one part suspenseful uncovering of antique valuations, and given a real-world flourish by those who bring their treasured items for harsh evaluation. Renowned Chicago-area antiques purveyor—Antiques On Old Plank Road, compares these two popular shows in a fascinating infographic.
The antique and pawn field is ripe with incredibly historic pieces of art, furniture, decorations, and general memorabilia. These items drive much of the individual television episodes for either show, and a fair share of the excitement comes from the valuation provided by the appraisers or pawnshop staff. It feels as if the customer has won the lottery when they stumble upon a valuable find in their attic.
Infographic investigates facts, figures, and phenomenon revolving around "Pawn Stars" and Antiques Roadshow
With more than 550 combined episodes and millions of individual viewers each week, "Pawn Stars" and "Antiques Roadshow" are incredibly popular among different demographics. This newly released infographic discusses the behind the scenes information related to each show—where they are filmed, who the main stars are, how many episodes each show has produced, and the general number of weekly or per episode viewers. "Antiques Roadshow" is just that: A road show that makes stops throughout the country. "Pawn Stars" follows a group of pawn professionals in the Las Vegas area.
If there is one constant between the two shows, it is the amazing variety of items the appraisers come across each day. The infographic delves into some of the more impressive finds—some ranging to more than a million dollars in value! It is these unlikely pieces that add serious drama to either show. Antiques provide a level of excitement and intrigue by combining a little of "the unknown" with a serious dose of history. Whether the item in question is a Super Bowl ring or a box of JFK's unsmoked cigars, there is always something exciting between these two shows.
About Antiques On Old Plank Road
Founded in 1992, Antiques On Old Plank Road has emerged as a leading retailer of antiques in the Chicago area. Old Plank houses a showroom full of domestic and international antiques including furniture, rugs, tapestries, and a variety of classic decorative items. A skilled group of on-site artisans painstakingly recreate classic antique items, with incredible accuracy and attention to detail. These artists restore classic furniture items and also create recreations of European and international designs. Much of the inventory for Old Plank is the result of frequent trips to England and France—shipping containers full of merchandise are loaded and sent back to the Chicago area. With over 31,000 square feet of space, Antiques On Old Plank Road has an array of merchandise to satisfy nearly any taste.
Media Contact
Ciara Shook
Marketing Manager
1750 N. Springfield Ave.
Chicago, IL 60647
312-714-3000
marketing(at)oldplank(dot)com