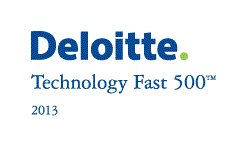 'Our growth reflects our ongoing commitment to innovation and the widespread adoption of our unique supply chain finance solutions.' - PJ Bain, CEO
Atlanta, GA (PRWEB) November 19, 2013
PrimeRevenue, Inc., the leading platform for optimizing cash flow in global financial supply chains, today announced it ranked 291 on Deloitte's Technology Fast 500™, a ranking of the 500 fastest growing technology, media, telecommunications, life sciences and clean technology companies in North America. PrimeRevenue grew 304% percent during this period.
PrimeRevenue operates the largest supplier finance programs in the world helping hundreds of European, North American, and Asia Pacific clients achieve more than $100 million each in working capital optimization. PrimeRevenue's Cloud-based, multibank platform, OpenSCiTM, allows companies to control all aspects of their supplier finance programs and achieve unprecedented cash flow improvements for their organization as well as their suppliers.
PrimeRevenue's chief executive officer, PJ Bain, credits the OpenSCiTM platform with the company's 304% revenue growth. "Being selected as one of the Fastest-Growing Companies in North America on Deloitte's Technology Fast 500 list for the second year in a row is a great honor," said PJ Bain, PrimeRevenue CEO. "Our growth reflects our ongoing commitment to innovation and the widespread adoption of our unique supply chain finance solutions. We believe that 2014 will bring even further innovation and expansion for PrimeRevenue."
"The 2013 Deloitte Technology Fast 500 companies are exemplary cases of those spurring growth in a tough market through innovation," said Eric Openshaw, vice chairman, Deloitte LLP and U.S. technology, media and telecommunications leader. "This year's list is a who's who of companies behind the most exciting and innovative products and services in the technology space. We congratulate the Fast 500 companies and look forward to what they do next."
"The fastest growing companies in the US are drivers of constant innovation and operate with the agility to stay ahead of a quickly evolving marketplace, and software, biotech/pharma and internet companies continue to be at the forefront," added James Atwell, national managing partner of the Emerging Growth Company practice, Deloitte Services LP. "The companies excelling in these sectors have a startup mentality that allows them to be nimble and adapt quickly, which is why they consistently lead the list of fast-growing companies each year."
PrimeRevenue, Inc. previously ranked 458 as a Technology Fast 500™ award winner for 2012.
About Deloitte's 2013 Technology Fast 500™
Technology Fast 500, conducted by Deloitte LLP, provides a ranking of the fastest growing technology, media, telecommunications, life sciences and clean technology companies – both public and private - in North America. Technology Fast 500 award winners are selected based on percentage fiscal year revenue growth from 2008 to 2012.
In order to be eligible for Technology Fast 500 recognition, companies must own proprietary intellectual property or technology that is sold to customers in products that contribute to a majority of the company's operating revenues. Companies must have base-year operating revenues of at least $50,000 USD or CD, and current-year operating revenues of at least $5 million USD or CD. Additionally, companies must be in business for a minimum of five years, and be headquartered within North America.
About PrimeRevenue, Inc.
For organizations that view their supply chains as a strategic asset and are seeking to increase supply chain efficiency, PrimeRevenue has the answer. PrimeRevenue provides cash flow to more than 13,000 buyers and suppliers through their OpenSCi platform which offers the control and flexibility required by organizations to optimize their working capital and reduce costs and risks throughout the financial supply chain. Headquartered in Atlanta, PrimeRevenue also has offices in London, Paris, Frankfurt and Prague, as well as in Melbourne and Hong Kong, and operates some the largest supply chain finance programs for clients around the globe. For more information or to contact us, please visit http://www.primerevenue.com.
To be the first with the news, subscribe here: http://primerevenue.com/news/.