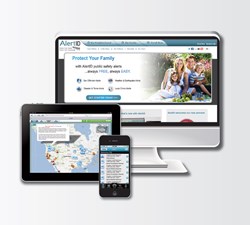 AlertID has delivered more than 35 million alerts and has members in more than 30 countries.
Las Vegas, Nevada; Palo Alto, California (PRWEB) November 19, 2013
AlertID, the fastest growing secure neighborhood social networking platform, has exceeded 1 million registered members, and today released version 4.0 of its public safety alert and communication system. The upgrade to the mobile application and online service makes it even easier for neighbors and groups to receive trusted public safety alerts and share them, and other important messages, across their networks in real time.
On the secure networking platform, members can create their own public or private groups. Information can be immediately shared with neighbors, schools, family members, law enforcement and friends, ranging from suspicious activity on the street to catastrophic events such as school shootings and amber alerts. Law enforcement, Homeland Security and other emergency authorities can also disseminate information, which is broadcast via emails and mobile alerts to affected communities. It also includes a "Find Me" button, which allows members to view any area that they visit and get information on crime, sex offenders, dangerous weather or other emergencies instantly.
"AlertID is filling a need in the marketplace that simply didn't exist before. People want to know what is going on around their homes, schools, offices and neighborhoods and no one else has been able to aggregate this important data from so many trusted sources, then make it immediately available on a local level," said Ken Wiles, AlertID CEO. "Since we have a customer retention rate of more than 99 percent, families are clearly seeing the need for this service in their daily lives."
AlertID has members in more than 30 countries, including Canada and Mexico, and for the first time is making crime information available in England. Also debuting in the next several weeks is the AlertID for Pets feature to help owners reunite with a lost pet.
AlertID has delivered more than 35 million alerts, identifying everything from sex offenders moving into local communities to updates on missing children. In fact, neighbor-to-neighbor communication increased 20-fold since this past summer, underscoring the importance of information sharing in today's fast-paced, digital world.
AlertID exceeds 1 million members in more than 85 percent of the more than 40,000 U.S. Zip Codes. With a foundation built on public safety, AlertID ensures that your private communication is never scanned and sold.
To sign up for a free AlertID account, or for more information, please go to http://www.AlertID.com.
About AlertID, Inc.
Live Safely™ with AlertID. AlertID is the safe way to receive trusted public safety alerts and share information with neighbors.
Alerts are provided by trusted sources including public safety agencies, local law enforcement, schools, neighborhood groups, neighbors, family members and friends. This first-of-its-kind, fast-growing network is the leader in helping people protect their families and communities throughout the United States and is poised to evolve into the world's go-to public safety and security resource. For information on critical public safety alerts and sharing information with neighbors, friends and family across the country, visit http://www.AlertID.com.