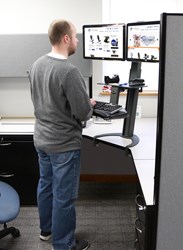 It's the perfect time to connect with current and prospective dealers
Las Vegas, NV (PRWEB) November 20, 2013
HealthPostures, a leading ergonomics equipment design firm, announces its attendance at the National Ergonomics Conference and Exposition. Consistent with its long standing practices of continuously improving upon ergonomics equipment design and functionality, HealthPostures aims to use information gained from the expo to develop new ergonomics products. Firm representative, Jared Elliott, shares that, "HealthPostures is always looking for new ways to improve products we sell." Elliott continues, "We're also attending the conference to learn about products slated for release in 2014 and how these products will improve ergonomics."
Products HealthPostures is bringing to the expo are the 6100 TaskMate Executive, the 6300 TaskMate Go Single Monitor, the 6350 TaskMate Go Dual Monitor, the 6400 EZ Lift and the 5050 Stance Move Chair. The ergonomics developer will also have an array of accessories on display at the expo. Built to improve employee safety and overall quality of health, the products help workers to stay alert for longer periods. According to company officials, users of the products have also reported that their productivity increased after they started using the equipment. Other advantages gained from making the ergonomics products available to workforces include less workplace injuries and improved employee morale.
HealthPostures has attended the conference several times since the event launched more than a decade ago. Networking relationships HealthPostures has developed with other attendees have been beneficial. In fact, Elliott said that, "HealthPostures has attended the expo a few times over the last 13 years, but it's the perfect time to connect with current and prospective dealers to learn what they are looking for in the market to sell as well as what changes they might want to see in the future."
Advertised as the "largest ergonomics event in America," the National Ergonomics Conference and Exposition has lined up speakers from numerous industry-leading corporations, including Boeing, Kaiser Permanente, the Tulane University Medical Center, Liberty Mutual and Merck and Company. The opening keynote speech is scheduled to be delivered by Dr. Bill Horsford, General Manager of Toyota Motor Engineering & Manufacturing North America's Production Engineering Division.
Topic highlights include legal considerations for pre-work screening, new return-to-work strategies for older workers, ergonomics for improving quality and the return on investment of ergonomics programs. The National Ergonomics Conference and Exposition is targeted for professionals such as ergonomists, occupational health nurses, safety engineers, occupational therapists, human resource professionals, physical therapists, corporate executives and design engineers. The event is being held at Caesars Palace in Las Vegas.
About Health Postures
Health Postures LLC (https://healthpostures.com), has been designing and manufacturing ergonomic sit stand solutions since 1996. Part of the company's mission is to "strive to provide quality products that will help transform your sedentary life so you have a healthy way to work." Office solutions sit stand products Health Postures designs and manufactures include dual monitor sit stand work stations, adjustable mouse stands, dual monitor arm accessories, Stance move seat extensions, industrial surface Taskmates and Stance Move chairs.
Contact:
Health Postures LLC
14310 Ewing Avenue South, Suite 100
Burnsville, MN 55306
800-277-1841
https://healthpostures.com