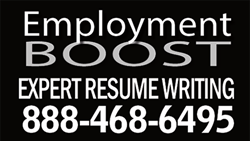 A considerable number of employees look to the New Year as an opportunity to transition or progress in their careers
(PRWEB) November 19, 2013
Employment BOOST, an expert resume services company, is ringing in Black Friday by giving 50% off professional resume services and LinkedIn Profile Development Services to the first 50 people to enter the coupon code.
These codes will be released at 8 AM on Friday, November 29, 2013 on the Employment BOOST website. Each service includes a personal phone consultation with a career expert and writing professional, SEO search optimization, and exclusive access to JMJ Phillip's executive recruiting database.
"A considerable number of employees look to the New Year as an opportunity to transition or progress in their careers. With the process of job search changing, strong online resumes and professional profiles are becoming essential. By Employment BOOST deeply discounting professional resume and online profile services, we hope to provide people a much greater chance of gaining better employment by improving their personal branding in 2014," stated Jennifer So, Director of Career Services.
The first 50 people to purchase Professional Level Resume Services and the first 50 people to purchase LinkedIn Profile Development Services will receive 50% off. Additional applicants will receive 25% off any resume or profile package offered at Employment BOOST. To receive the 25% off you must enter the code EBBLK2014 during the online payment process. Package deals will be accepted until 11:59 PM on November 29th.
Recipients must be able to provide a current resume, information about employment history, and responses to career questions within a reasonable period of time.
Employment BOOST is also giving away special deals for Cyber Monday from 12 AM December 2nd until 12 AM December 3rd. All services offered online will be 30% off all day with the additional value of a free cover letter.
About Employment BOOST:
Employment BOOST is a Troy, Michigan based company that provides professional resume writing services and critiquing, cover letter development, resume distribution, social media profile creation, and interview coaching to job seekers across the nation. For more than a decade, Employment BOOST has consistently been helping people achieve career satisfaction. Employment BOOST uses talented industry experts to tailor resumes to the key content that hiring managers seek. For more information on Employment Boost, please call 888-468-6495 or visit http://employmentboost.com.