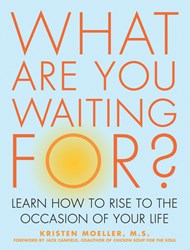 (PRWEB) November 19, 2013
Kristen Moeller, MS, bestselling author and lifecoach recently presented at TEDx Jackson Hole on devastation and overcoming extreme loss. She describes how she lost her home to a fire that destroyed 21 homes and killed three people. She says in the presentation, "We live with the illusion that it is our stuff that traps us, and if we lost all our stuff, it would cure what ails us. And if you're the spiritual type, like me, non-attachment is the holy grail, the golden goose, the highest level of attainment. Losing all my material possessions did not rid me of attachment." However, it did teach her another lesson, which she shares. "All my life, I was waiting to arrive somewhere. Waiting for a sense of perfections, waiting for life to make sense, waiting for certainty. Since I walked through fire, I wait no more."
Tomorrow, Kristen will be presenting at CRAVE Denver, a creative workshop for women. Listen to her on Soulful Living with Teri Williams on 12/2 at 12pm EST, and on David Essel Alive on 12/14 at 5pm PST.
What Are You Waiting For?
Learn How to Rise to the Occasion of Your Life
By Kristen Moeller
Through candid stories and insightful lessons, writer and self-proclaimed "self-help junkie" Kristen Moeller helps us explore the pervasive human tendency to wait as life goes by and to look outside ourselves for answers. As Wayne Gretzky once said, "You will always miss 100 percent of the shots you don't take." Kristen Moeller's mission in life is to inspire you to get on the path, move forward and take the shot. Everything you need for happiness and fulfillment is right inside of you. What Are You Waiting For? is also available as an audiobook.