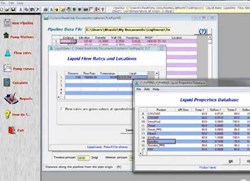 User friendly engineering software
(PRWEB) December 19, 2013
SYSTEK workshop is good to refresh and learn how to design and build a liquid transportation pipeline within two days from an experienced licensed (PE) engineer with 38 years experience. Included in the workshop is transient or surge analysis.
Choose to attend either a one day introductory workshop (steady state hydraulics) or a more detailed two day workshop which includes steady state and transient analysis that covers instantaneous valve closure and pump shut down scenarios.
Register now and save $200 of the registration fee and receive:
A free software package (LIQTHERM or GASMOD), fully functioning for three months use without obligation. (A typical pipeline can be modeled in less than one hour. Want to check out a demo or trial version of the software, visit SYSTEK web site).
Workshop location and date:
LIQUID PIPELINE HYDRAULICS
http://www.systek.us/wrkshp_liquid.php
Buena Park, CA, Mar 13-14, 2014
Limited to only 10 attendees in each workshop!