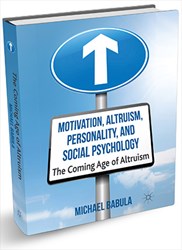 As you continue reading, I am going to first unveil a new paradigm for human motivational development that will redefine optimal psychological health and provide a roadmap for how to achieve it (Preface, xv).
London, United Kingdom (PRWEB) November 20, 2013
What constitutes optimal psychological health? This is a question that psychologists have debated for decades.
The culmination of more than 10 years of experimental and mass survey research, 'The Coming Age of Altruism' challenges six decades of received wisdom about human motivation theory. According to the accepted paradigm within the social sciences, humans are inherently self-interested. The drive to maximize one's own self-interest is viewed as a healthy guiding principle in life. In 'The Coming Age of Altruism,' Dr. Babula makes the case for replacing outdated models of human motivation that have been based on Abraham Maslow's needs hierarchy.
'The Coming Age of Altruism' opens up a completely new line of debate within the social sciences towards a new paradigm based around altruistic behaviors.
"[Dr. Babula's book] forces us to examine our motives and challenges us to be better people. I highly recommend it," said Dr. David Lopez, CEO of iAnalytics and Max Planck Institute for Human Development Alumni.
Dr. Babula argues that self-interest is a false step on the path to developing the ability to live for others and identifies "needs frustration" as a major source of crime, cruelty, and lack of empathy within Western society. Dr. Babula explains that society is living in a 'dark age' because governing, educational, and therapeutic systems promote the cultivation of self-interest. He cites the mortgage crisis, rising debt levels, and a decade of warfare to highlight the damage that modern psychology has caused by supporting self-interested paradigms of human health.
"Needs frustration causes people to act against their will to help others," Dr. Babula said. "There also exist special cases of psychopaths. These people prey on needs deprived individuals to instigate them into evil actions. I present the results of a psychopathy study on a group of law enforcement individuals in the US to demonstrate this point in the book."
Dr. Babula directly challenges Sigmund Freud's aversion to the Golden Rule. He replaces Abraham Maslow's needs hierarchy with a hyperbolic paradigm of human motivation that extends beyond self-actualization to include altruistic mindsets. Dr. Babula also refutes leading psychologists and scholars such as Philip Zimbardo, Barbara Oakley, and David Sloan-Wilson.
'Babula's thought provoking book sounds a generally hopeful note on the development of human altruism, while the chapter on psychopaths raises some interesting and very important issues concerning these less than altruistic individuals. Many of the ideas in the book deserve a much wider discussion," said Clive Boddy, author of 'Corporate Psychopaths: Organizational Destroyers.'
About the author: Michael Babula is an American born and British educated psychologist, political scientist, business scholar, and author. Dr. Babula is the author of the forthcoming book, Motivation, Altruism, Personality, and Social Psychology: The Coming Age of Altruism. Dr. Babula's research has previously appeared in the Journal of Applied Social Psychology, The Unlikely Samaritans (2013) and PS: Political Science and Politics, Political Values in a Threat Environment (2007). He currently serves as a Senior Lecturer in Quantitative Techniques at the University of Greenwich.
Where to find out more:
Web: http://www.ageofaltruism.com
Twitter: @ageofaltruism
Facebook: https://www.facebook.com/AgeofAltruism
Amazon: http://www.amazon.com/Motivation-Altruism-Personality-Social-Psychology/dp/113703128X
Available from 20th November, 2013